May is a month of unexpected joy for Kim Kardashian – she hadn't anticipated marriage being proposed to her, and in such a romantic fashion, too!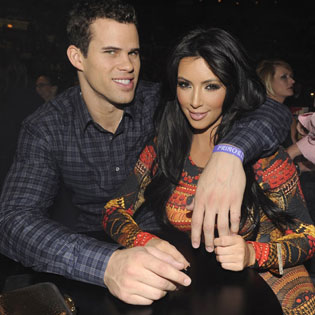 She confessed to PEOPLE that she had had a surprise of her life on that memorable day, May 18, when, on her return to her home in Beverly Hills, she found her boyfriend Kris Humphries waiting for her in her bedroom. He was kneeling, and had the inscription "WILL YOU MARRY ME?" laid out for her in crimson rose petals.
"I was in such shock," says Kardashian, 30, who had never expected to be proposed to at her own home.
It had taken her boyfriend, New Jersey Nets forward Humphries, 26, six months of dating to make up his mind that he had found the girl of his dreams – which he proved by slipping her a custom-designed, 20.5-carat diamond ring by Lorraine Schwartz.
In the evening the occasion was celebrated with an intimate party for family members only. According to Kardashian, Humphries hadn't intended it to be a big affair, but after he had mentioned mini-horses, Kim's mom Kris Jenner (who helped arrange the party) did get two mini-horses with glittering reins as a surprise for the young couple.
Source of the image: Greatnewmovies.