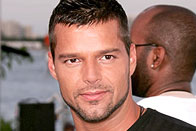 Another wave of rumors about Ricky Martin being gay has spread through the world. Recently the People en Español magazine featured Ricky Martin announcing to the world the names of his two twins. The twins were born four months ago through a surrogate. They were named Valentino and Matteo.
The pop star reasons his decision to have children born via a surrogate by saying that he sees it as a much faster and intriguing option. Yet, some people disapprove it, just like they did when Michael Jackson had his child. It is hard not to ask ourselves why would not he go through the traditional road by finding the right girl and getting married, or at least he could have gone through adoption.
Currently, Ricky lives in Puerto Rico and devotes himself to his children in the first place. He even hired an assistant who takes care of him, while he in turn looks after his babies. In fact, Ricky Martin is well-known around the world for his love to children, since he often takes part in children's charities and events fighting against the sex slavery, which is widely practiced in Latin countries, and for the children's rights.
The People magazine listed Ricky Martin on their list of the 50 Most Beautiful People in the World. Thus, considering that Martin looks rather metrosexual and is known to be media-shy, it is not surprising that some people would question his sexual orientation.
So, can we know for sure if Ricky Martin is gay or not? Not at the moment, but we have to admit that although his actions are weird at times, he still manages to contribute a lot to the good of children around the world.
He said in an interview to the Plus 7 Days magazine "I am a modern man, live a full life, do not feel any barriers inside myself. I perceive the contemporary world as an open forum, where nothing is taboo except criminal activity. If I were gay, why not admit it? I am a normal man. I love women and sex. I am a real hot-blooded Puerto Rican, but I have never been attracted by sex with a man." But can you believe these words?
Photo of Ricky Martin: askmen.com.