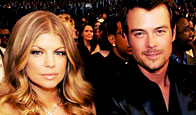 Fergie and her husband Josh Duhamel – who wed in Malibu earlier this month – made up their mind to start a family while on the honeymoon. According to a source, they plan to become parents as soon as possible, but Fergie, contrary to rumors, is not pregnant. They are going to adopt.
Newly weds initially differed on the plans with Josh keen to have a child and Fergie saying she's not ready for pregnancy yet. The source said to National Enquirer, "Fergie isn't ready to put her career on hold to have a child right now, but she knows starting a family is important for Josh and wants to make him happy". The celebrities decided the adoption would be the best thing to do.
Source of the image: evilbeetgossip.film.com.