Sponges used for washing dishes are recognized as one of the dirtiest things in the house. Analysis showed that they were 200 thousand times dirtier than the toilet seat. The experts from the Hygiene Council recommended to wash all the towels, napkins, and sponges at the temperature of more than 60 degrees for disinfection. Some experts suggest disinfecting sponges in the microwave oven.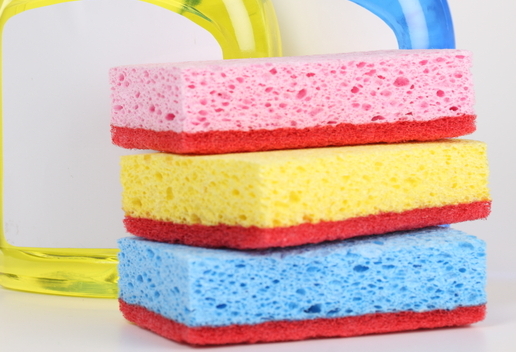 The alternative is to choose antibacterial wipes and appropriate means to clean work surfaces. But then, you have your hands as the main way of transmitting dangerous microbes during food preparation. Therefore, you should watch your movements and wash your hands with soap or use disposable gloves when necessary.
There are about 10 million bacteria on a square inch (2.5 cm) of a kitchen sponge, and the kitchen rag usually contains 1 million bacteria.
One can often find campylobacter in the house. These bacteria cause paralysis and are actively multiplied in kitchen sponges. The pathogen causes Guillain-Barre syndrome, which affects people's ability to move.
The analysis of 180 houses in Australia, Canada, Germany, India, Malaysia, Saudi Arabia, South Africa, the U.S., and the UK revealed that the seal in the bathroom was dangerous in 70% of cases. The inside of the fridge was the second dirtiest place: more than 40% of the houses did not pass the tests for bacteria and fungi.
Kitchen towels failed the test in 36% of cases. The cleanest place was the folding chair for children (it failed the test only in 6% of cases).