Mint is not the name of your butler. It's a new, a little more light-weight version of the Roomba offspring, designed to handle tiled or wooden floors.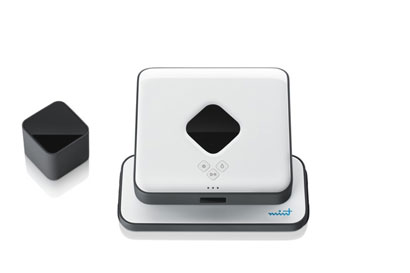 It is a much quieter and simple little fella, not fitted with the vacuum cleaner like the Roomba (which was a real hard worker made to deal with dusty carpets) or the Scooba's spinning brushes. Actually this is a modern electronic equivalent of a common mop, a gadget wielding but cloths. First it collects dust with a dry cloth, then polishing up the spot with a wet one. Shiny surface is guaranteed!
The Mint feels fairly certain within the room thanks to its NorthStar navigation that helps him avoid covering the same ground over and over. But it can't move off into the next room by itself, so it's up to you to carry it around the house. Another thing is that the Mint isn't capable of going back to the base when it needs recharging. Again, its owner has to see about it.
This is the service that you can get from the Mint for $250 during the three hours of his one-charge work. It will be unveiled in summer, but you can pre-order it right away.
Source of the image: wired.com.