What could set a romantic environment better than a candle burning in the dark room? Aromatherapy is great to lift the spirits. Ceramic aroma burners have become quite popular, now it's time for their electronic alternatives. USB Aroma Diffuser simulates a burning candle (due to using LED light bulbs) and can be filled with aromatic oils to help you relax.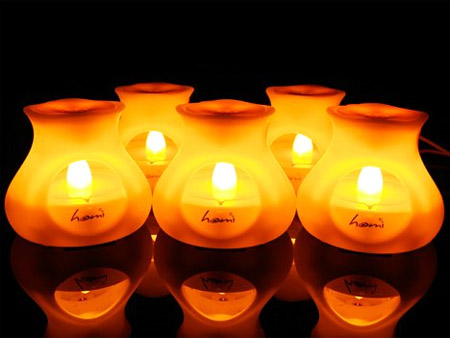 Aroma Diffuser comes with three aromas – passionate, romantic and relaxing. Forget about scrapping wax off surfaces! Besides, shimmering light created by LED light bulbs doesn't pose any threat as open fire does. So it's ok to leave it for a couple of hours unattended.
Gadget dimensions are: 87x84x75 mm and it weighs 121 grams. You can run it on either USB power or use two AA batteries. USB Aroma Diffuser retails for about $25.
Source of the image: coolest-gadgets.com.