We regularly post about flash drives designed for women, which also could be a chic detail of outfit. For example, flash drives shaped like necklace, pendant or fob will help introduce something new to your image or might be a good gift idea. Get a load of 12 chic flash drives which will stand you out from others and add more style to your image.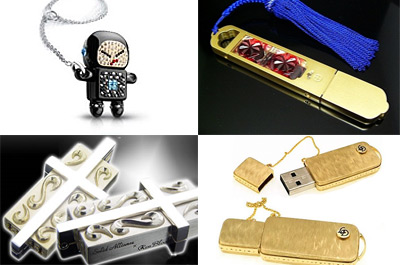 Ken Blood Cross USB Memory from Solid Alliance
This flash drive by Solid Alliance is available in two colors, silver and gold, both with 2 GB of storage. When not in use, this flash drives looks like a stylish accessory. It comes in a case on chain so you can wear the flash drive around your neck.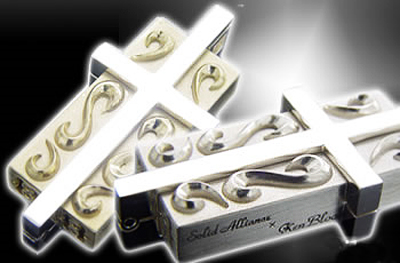 Retails for $180.
Crystal USB Flash Drive Keychain
This model features golden plated casing, studded with crystals. The storage capacity is 4 GB. Well, it looks more expensive than a computer you plug it into. But it isn't really expensive.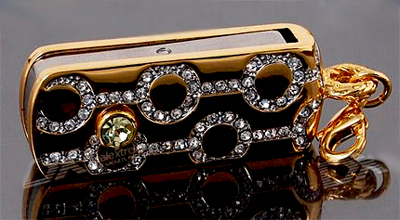 It measures 47.5×18.8×11.2 mm , weighs 91 grams. The price is $44
Younus Swing Gold
Next model on the list in the Korean Younus Swing Gold flash drive with golden plated casing. It measures 42.9 x 17.7 x 8.7 mm and is available in six different storage capacities: 512MB, 1GB, 2GB, 4GB, 8GB and 16GB. The model is compatible with Windows, Mac and Linux.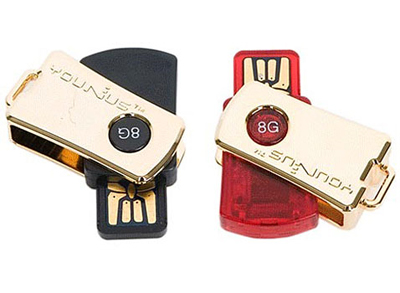 It sells for $15.
Solid Alliance Mottainai USB Key
This is another flash drive from the Japanese Solid Alliance company focused on manufacturing weird gadgets. The flash drive has golden plated casing encrusted with red crystals from Statsuma Kiriko and distinctive Japanese style. The model is compatible with Windows, Mac and Linux. Storage capacity: 2 GB Comes in wooden case.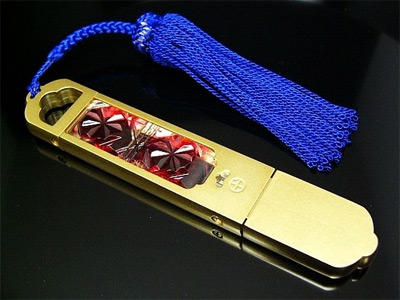 It measures 102 x 19 x8 mm, and weighs 55g.
Retails for $880.
Transcend JetFlash V-90
Another novelty from Transcend company – JetFlash could appeal to all people crazy about trendy-looking accessories. This flash drive is enclosed in a chic patterned case. It comes with one long and one short chain so you can wear it around your neck as a pendant or hook on your key ring.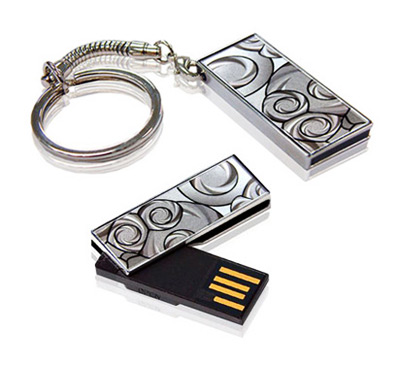 Dimensions: 33x13x4 mm.
Weight: 8g.
Price is from $15.
Gold DiskOnKey
You are looking at a hand-crafted masterpiece called Gold DiskOnKey from U3 company. The body of this flash drive features 14k gold finish and an encrusted diamond which, due to LED, glows once you plug the drive in. This model comes in a limited edition.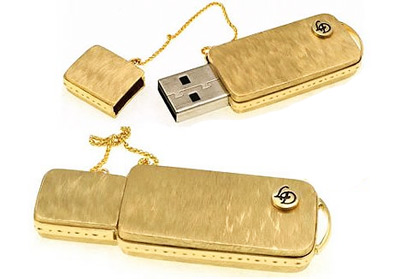 Dimensions: 57х20х7 mm
Price: $2000
Robot Naughty Raymond USB Memory Key
This is unique 2GB flash drive with a high-speed 2.0 interface, and a room for up to 500 songs. It can be used as a trendy pendant or a key fob. It is transformable. The robot's black body is embellished with crystals in the Pointage style. And LED ears glow every time you transfer data!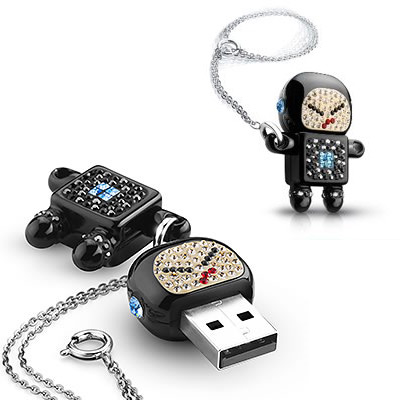 Retails for $220.
S.T. Dupont 2GB USB Flash Drive Key
This flash drive is created by a French brand S.T. Dupont which has been manufacturing stylish and expensive accessories for many years. The drive is designed in shine "diamond style" and provides storage capacity of 2GB. That's a great gift idea!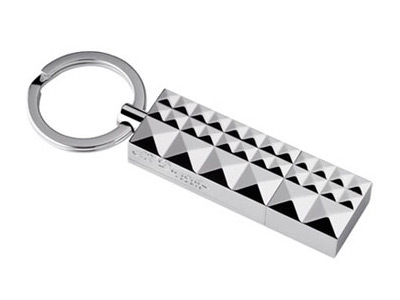 It measures 51х19х6.35 mm
Retails for $480.
Pretec i-Disk Vogue 1GB (Gold)
The drive is designed like an elegant necklace, stylish gadget, and romantic gift to a girlfriend. Pretec i-Disk Vogue is a combination of state of the art technology and delicate designs. This hand-crafted necklace is available in two different colors, gold and silver.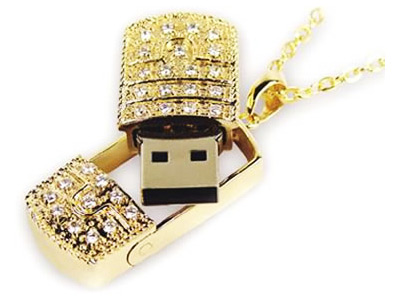 It measures 19.3х40.2х9.6 mm and weighs 10 g.
The price is $10.
Owl USB Flash Drive
This nice and elegant drive is shaped like an owl studded with crystals. It is designed as a brooch on chain. USB port is neatly concealed inside the owl.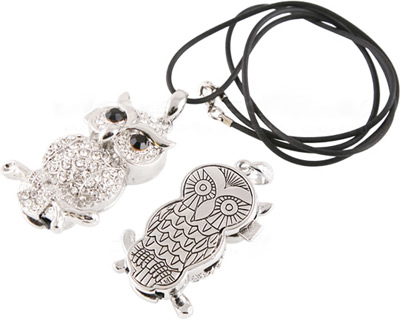 Dimensions: 47x30x15 mm
Weight: 38g.
Price: $25.
Crystal Cross USB Flash Drive Necklace
Yet another example of how a gadget could pass for nice decoration. It looks like a small cross to wear around the neck, but it has the drive inside that slides out easily.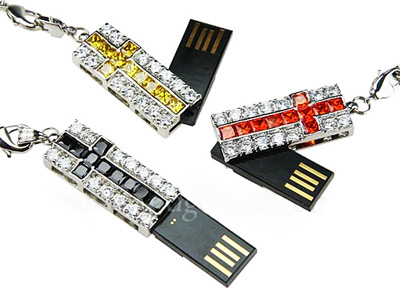 It measures 35х15х5 mm and weighs 30 g.
Retails for $29.
Pico-C Solid Gold USB Drive – Golden Flash Drive
This small bar of 18k gold provides flash memory opportunities. The surface of its casing allows to do laser engraving and could become a quite expensive gift. The manufacturing company –Super Talent Technology – has offered it in unlimited edition.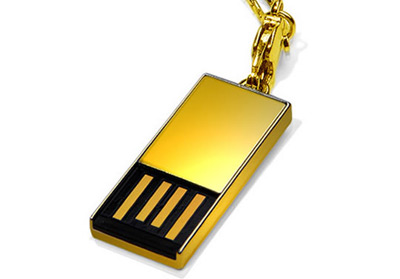 It measures approximately 25x10x2 mm.
Source of the images: geekalerts.com, hardwaresphere.com, yarland.ru.