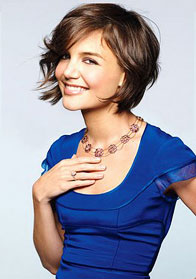 There is something really incredible about how celebrity moms are able to look as if nothing happened just in a few months after the childbirth. "Some people have all the luck!" – unlucky mothers groan looking through the tabloids. Don't be envious. All too often celebrities are pushed to shed their pregnancy weight as quick as possible. First, tough contracts bind most of them to show up at a film set just a few weeks after the childbirth. And second, they are being closely watched for extra pounds through the paparazzi's cameras around the clock. Any ride to the supermarket can end up with a tabloid cover trumpeting, "She looks like a fat pig!" No wonder actresses and TV hostesses are ready to go to any lengths to get back into shape quickly. They stick to a strict diet and get slim in expensive, exhausting and sometimes unhealthy way.
Breastfeeding Katie Holmes Was Starving Herself
Tom Cruise was very proud of his wife's svelte figure before pregnancy. After giving birth to daughter Suri Katie put all her energies into shedding excess pounds. In her interviews Katie Holmes told she just ran off her pregnancy pounds. In her friends' words it is far-from-the-full-truth story. She was following a very strict diet and restricted herself although she was breastfeeding. Katie cut back to 1000 calories a day (with 2000 calories recommended daily calorie intake for non-breastfeeding women!).
Don'ts for Breastfeeding Women
No woman should starve herself while breastfeeding. This may cause complete stoppage of lactation, which comes to harm both mother and child. The lack of breastfeeding may at least weaken the kid's immune system, leading to lowered resistance to colds, heightened risk of hypovitaminosis D and rachitis.
The suspension of breastfeeding and malnutrition cause stress and hormonal failure in mothers. Daily average calorie intake of lactating women is recommended to range from 2200 to 2400 calories.
Photos of Katie Holmes, Tom Cruise and Suri: babble.com, topnews.in.