A shopping mall in the city of Gungzhou, China, announced a bra-removing contest, inviting participants onto the stage to undo eight bras as fast as they could.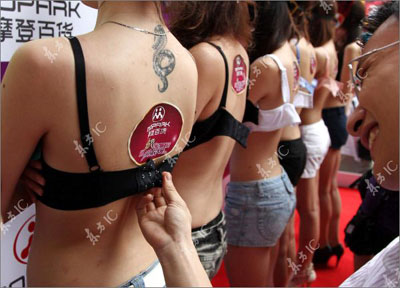 The bras decorated the chests of eight models whose hair had been tied up and out of the way of men's fumbling fingers.
To crown the titillating experience a prize of 1,000 yuan was waiting for the one who would prove quickest with those fastenings.
As men thronged about for their turn hardly any of them imagined that the contest would be won by a woman!
Eagerness lost out to experience as a female winner tackled the clasps of eight bras in 21 seconds.
Source of the image: Shanghaiist.com.