We believe that you wouldn't do it intentionally. And yet it can happen: you have met your ex-boyfriend while being in the company of your new boyfriend. Do not worry! It is better to ask yourself what Nicole Kidman would do in your situation.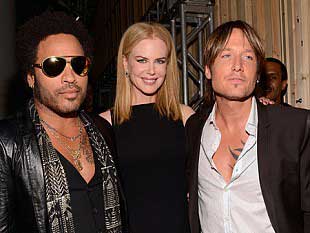 Yesterday, Nicole and her husband Keith Urban attended the CMT Awards ceremony where they met Lenny Kravitz, the actress's former boyfriend, whom she had been engaged to. Instead of being embarrassed, Kidman happily greeted her ex-lover and started posing for photographers, while embracing the two men. What patience and self-control!
Here are a some tips to help you do the same if you meet your ex.
Do not give way to feelings. It is better not to show the men – neither the former one, nor the current partner – what you are feeling at the moment, whether you are worried, glad or angry. Behave normally.
Do not ask your ex-boyfriend how his personal life is. No comments.
Discuss neutral topics. Movies, mutual friends, weather… You should not start a conversation like "Do you remember the vacation we had last summer…"
Introduce the men to each other. Follow the standard rules of politeness – help the men get acquainted. They will shake hands, examine each other carefully, and nothing bad will happen.
Do not ignore your ex-boyfriend. You should not go down the street with an emotionless countenance, as if you do not notice him. This is impolite.