These rules were published in the 1950s in a book on housekeeping for the girls graduating from high school and preparing to become wives.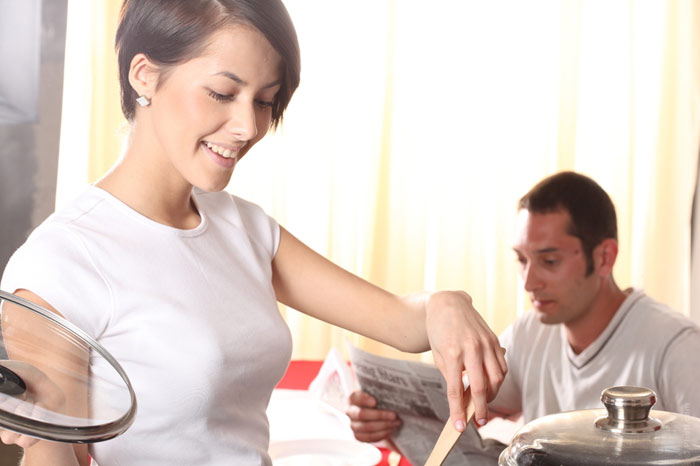 Dinner should be cooked. A woman should take care of it in advance, sometimes even the night before. The dinner must be delicious, and various dishes should be prepared before the husband's coming home. It's a way to show the spouse that you think about him and take care of his needs. Most men are hungry when they come home, and the sight of a good meal (especially of his favorite dishes) is an integral part of a warm reception.
Get ready. Relax for 15 minutes to look fresh when he comes back. Correct your make-up and hairstyle. Keep in mind that a second ago he was surrounded by concerned people at his work.
Be cheerful and interested in him. After a hard day, he needs encouragement. To encourage your husband is one of your duties.
Clean the house. Before the husband returns from work, remove any mess in the main part of the house.
Collect the textbooks, pick up the children's toys, remove papers, and so on. Cover the tables with fresh tablecloths.
In the cold months of the year, you should light the fireplace in advance to protect the husband from cold. Your husband will feel he has reached a cozy haven of rest and order and will inspire you. Eventually, supplying your husband with comfort will bring you limitless personal pleasure and satisfaction.
Prepare the children. Wash children's hands and faces (if they are small), comb their hair and, if necessary, change their clothes. Children are a little treasure. Let the husband see their involvement in caring for him. The husband should be shielded from any noise. When he comes home, the washing machine, the dryer or the vacuum cleaner should be switched off. Try to make the kids be quiet.
Be happy to see your husband.
Greet him with a smile and demonstrate a sincere desire to please him.
Listen to him. You can have a dozen things that you want to share with him, but the time he comes home from work is not the best to do this. Let him speak first and remember that his conversation topics are much more important than yours.
The evening belongs to the husband. Do not complain, if he comes home late or goes out to dinner at some place of entertainment without you. Try to understand that your husband lives in a world of tension and pressure, so he needs to relax at home rather than listen to reproaches.
Your goal is to bring peace and order to your home for the husband to refresh his body and spirit.
Do not meet your husband with reproaches and challenges.
Do not complain, if he comes home late or is absent all night. It is a trifle in comparison with what he had to experience during the day.
Make your husband's life comfortable. Have him lean back in a comfortable chair or fill a hot bath for him. Prepare cold or hot drinks for him in advance.
Plump his pillow, take off his shoes. Speak with him in a calm and pleasant voice.
Do not demand explanations for his actions and do not question his honesty and fairness. Remember that he is the owner of the house, who always acts fairly and correctly. You have no right to demand his explanation.
A good wife always knows her place.