Heart is lawless but often, when we fall in love, our mind begins to criticize the choice of the heart and finds reasonable arguments why you cannot be together. We have singled out seven most frequent woman's problems in a relationship.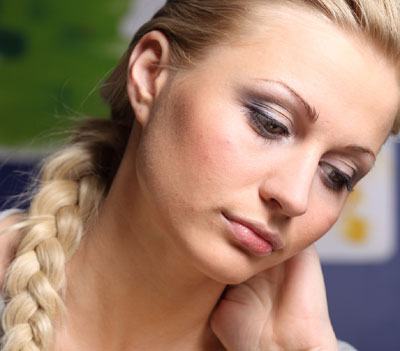 1. "He is a person of a different status"
Your lover may have influential parents or he might be a successful self-made man. If you are upset that he is much richer than you are, maybe you are bothered by your boyfriend's arrogant behavior. It is much easier to explain a man's bad temper man with the fact he has much money. It is supposedly logical to look down at everyone, if you have good income, an expensive car, and an apartment downtown. We know many stories when Cinderella became a princess next to a man who wasn't looking for a bank account and a wardrobe full of Chanel dresses, but a good heart, love of life, energy, diligence and other amazing feminine qualities.
The situation may be contrary: your boyfriend may earn less than you do. We do not see anything wrong with it either. In addition, everything can change: maybe it is next to you and with your support that he will succeed.
2. "We have different education"
You know the The Big Bang Theory TV series, don't you? Its main characters are young scientists who seem to know everything about the world, but from an academic point of view. And their gay neighbor Penny, who works as a waitress in a coffee shop and dreams of becoming an actress, knows everything about life, too – but from the point of view of an ordinary young girl. She knows how to make friends, to empathize, to have fun and live a full life. Because of the difference in the education, the characters' communication turns quite comical and fun. They do not run away as soon as it becomes clear that Penny does not know who Schrödinger's cat is. They have successfully complemented and enriched each other's lives for six seasons already.
3. "He is shorter than me"
According to statistics, in 3% couples, women are taller than men. If you are shy because you do not look delicate and elegant against your BF, try to be more feminine and compliant in the relationship with him, and then you won't care how you look from an outsider's viewpoint.
4. "My parents will not approve of my choice"
Your parents' opinion is something difficult to discard. "Parents know better" – especially true this phrase sounds when the relationship goes wrong: parents say they have long anticipated it. Actually, it turns out that the more your parents criticize your potential choice and "wish you well", the more you want an affair with a "wrong" guy. Therefore, if you have an obedient girl complex, take a notebook and a pen, figure out what you really want from a relationship and what your parents are trying to impose. Maybe you will find a compromise: you will either understand that your family really wishes you well, or you will get an idea how to introduce your BF so that your father and mother like him.
5. "He's a womanizer"
You may be confused that your boyfriend is popular among women and has a big experience in love affairs. Before you sound the alarm, it is necessary to find out why he used to have such a lifestyle. Was he trying to fill a void in his soul with female attention or is he really a skirt-chaser? Instead of trying to figure it out on your own, just talk to him about it.
6. "I'm not as beautiful/successful/talented as his ex-girlfriend"
Do not compare yourself with the exes – at least because they are his past, and you are his present. On the other hand, if you see some positive features in girls, it means that you also have a big potential to possess such qualities. It is only necessary to discover them. On the other hand, this comparison may be a good push for your personal growth, and you will begin to work more on yourself.
7. "We are different"
Perhaps it's hard to believe, but we are all different. However, with some people we are trying to find similarities; with other – differences. If you are trying to convince yourself that it is not your man – perhaps this is true. But it is better to find out what you are specifically frustrated with. So that you will not come to think no man on earth is right for you.