We should be charming and brilliant while circling in a whirlwind of holidays, having fun and dancing!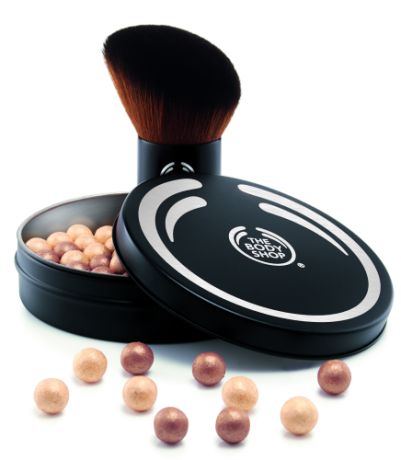 Dazzling Rocks powder in the balls of golden and bronze shades gives the skin a spectacular glow. Take the powder from the surface of the balls and apply it on the cheeks, temples and neckline. A kabuki brush with an oblique cut from a limited Christmas collection of The Body Shop will help you do it easily.
According to The Body Shop official makeup artist Chase Aston, the powder balls in Dazzling Rocks are sculpting the face perfectly well and give the skin an effect of light glow with a golden hue that is popular during this season.
The Body Shop has also prepared the following makeup products for the holidays this year:
4-color palette of eyeshadows for the "smokey eyes" makeup in 01 Copper and 02 Moonstone palettes;
glitter for body and hair in an elegant bottle with a spray-pump;
eyeliners;
and, of course, the final touch to the holiday makeup – Colourglide Shine lipstick!