The famous Italian style icon, Monica Bellucci, is called for by beauty brands as their representative. Her most high-profile cooperation is with the French brand, Dior. Many have wondered for a long time why well-known Italian brands do not exploit the exceptional looks of their compatriot.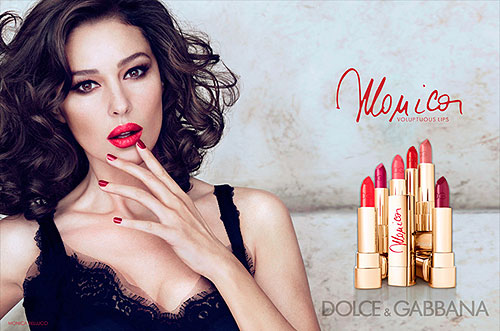 The answer came a year ago when it became known that the designers' duo Dolce and Gabbana invited the actress to star in the advertisement of their new collection. And now Bellucci also presents some makeup items by Dolce & Gabbana.
The Classic Cream Lipstick now bears the name of the Italian celebrity – Monica Classic Cream Lipstick. The new collection includes two natural shades, two red and two bright pink (magenta):
Natural Monica
Only Monica
Italian Monica
Attractive Monica
Chic Monica
Magnetic Monica
On the advertising poster Monica demonstrates the Attractive Monica shade.