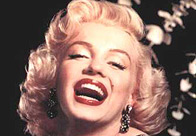 Here are some makeup tips for women with thin lips. If you have time and desire, you can try the makeup Marilyn Monroe used to make for herself. The thing is the sex idol of the twentieth century was born with rather thin lips that she was able to make look full and appealing using her own makeup technique. This makeup takes at least half an hour. But it's worth the efforts.
Here's how to make your lips appear thicker using Marilyn Monroe's lip makeup technique:
moisturize the lips with a lip balm and let it soak in completely;
apply a makeup foundation on the lips with a sponge applicator and then powder them;
draw the line 2 mm from the natural lip contour with the liner slightly lighter than the lipstick;
using a lip liner, fill in the lips with vertical lines;
apply vertical lines of lipstick with a lip brush, moving from edges to the centre;
blot the lips and put a powder on;
re-apply the lipstick, blot again and apply the lipstick (apply the lipstick three times);
dot a light lip gloss at the centre of the bottom lip and smudge with a lip brush slightly.
Here is how professional makeup artists create a pouty lips effect for commercials and photo sessions of celebrities. Line the lips with a white or very light lip liner and fill in translucent lipstick or lip gloss.
Source of Marilyn Monroe's photo: solarnavigator.net.