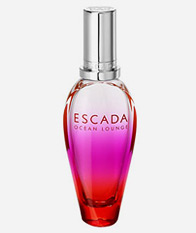 I've just read that Escada created a new seasonal floral fruity fragrance for women. It's called Ocean Lounge and, judging by the bottle, it should be similar to my favorite Moon Sparkle by Escada. I've been using it this summer and the first part of September – even today. And I'm enjoying it right now. It smells great, as already said, I recommend this scent! I've found on many sites that Ocean Lounge "evokes the spirit of summer" – and I hope, it really does, as its "elder brother" Moon Sparkle does create a truly summer mood. Ocean Lounge is a composition of fruity and floral scents.
Here's a more detailed description of Ocean Lounge. Top notes are lychee and plum, pear nectar accord, strawberry meringue accord. Middle notes are 'violet petal sorbet' scent, mimosa blossom, jasmine. And base notes are ambery notes, sheer vanilla, teakwood scent.
Ocean Lounge is a limited edition fragrance, so I'm going to try it out by all means! I hope, it will turn out no worse than Moon Sparkle, and, maybe, even better, if there's ever something that can smell better than this fragrance.