Movies are now hitting the shelves of beauty shops almost as fast as they hit the theatres. This fall it was The Muppets Show that inspired nail brand OPI to create a 12-shade polish line bearing quaint names such as Getting Miss Piggy with It, Wocka Wocka! and Fresh Frog of Bel Air. The next feat in this field belongs with nail brand China Glaze who went after the much-talked-of upcoming film The Hunger Games featuring Jennifer Lawrence, Josh Hutcherson and Elizabeth Banks.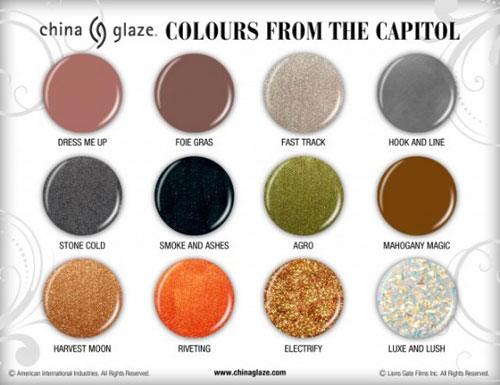 China Glaze's film-named collection is reported to include 12 resplendent lacquer shades of creme and glitter. The release is timed for March 2012 to coincide with the film's premiere.
And it's not only nail polish designers – or notebook and T-shirt artists who were also jumping at upcoming flicks in search for inspiration. At H&M stores you can find a clothing collection named Girl with the Dragon Tattoo by Trish Summerville, who was also the movie's costume designer.