The year of a star duo of Dita Von Teese and Artdeco brand is crowned up with a brilliant Golden Vintage collection.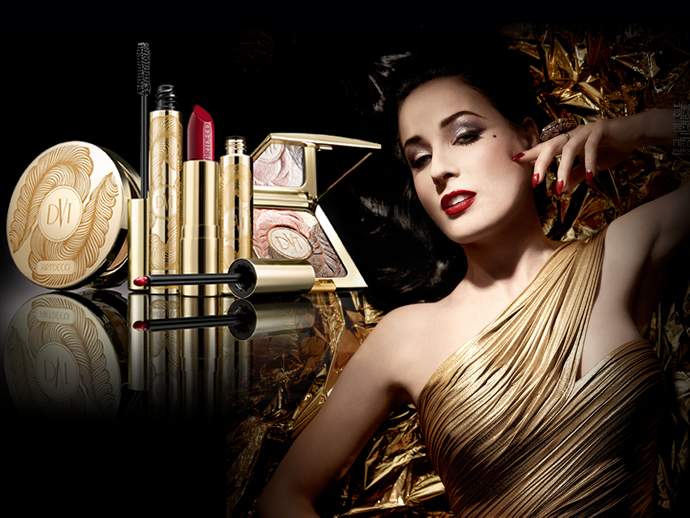 This diva prefers Golden Vintage limited cosmetic sets. A gentle compact powder with a flickering effect looks beautiful on the face, emphasizing its elegance.
A blush highlighter with vintage prints illuminates the skin and surrounds cheeks and eyes with a light shining. The three shades of this texture are perfectly mixed on your hand, which enables you to vary color saturation.
Highlighter eye shadows with a silky texture in the form of feathers of a paradise bird are designed for expressive and charming eye makeup. Mixing colors, you will get your perfect tone.
The Golden Vintage collection includes a curling effect mascara, which starts working immediately as you touch the eyelashes with a brush for the first time.
There is also a lipstick with a luxurious velvet texture. It is a true decoration of this makeup.
For bolder decisions in your image, you can use a glossy lipstick. It has a rich wine shade with a radiant glossy shine that creates a dramatic look.
This appearance is intensified by the nail polish with a retro-effect: it will help you make the trendy "moon" manicure, which has become a hit on the world catwalks during the winter season.
Solemn fireworks of shimmering shades and sensual colors are concealed in exquisite cases designed by Dita Von Teese.