During the last Fashion Week in New York, the leading makeup artist of Clinique Jenna Menard introduced a new autumn trend in makeup as a part of Karen Walker collection.

A black eyeliner, a lip balm of the skin tone and a mattifying foundation will definitely become the must-have of the coming fall. And it is coming very soon!
Let us follow Jenna's detailed instructions and remember the star makeup tips:
Skin: How to Apply Makeup
A unique moisturizer called Dramatically Moisturizing Lotion prepares the skin for make-up and helps to give it a polished look.
Face
A new mattifying foundation Stay-Matte Oil-Free Makeup and a moisturizing concealer for the skin around the eyes All About Eyes Concealer: apply the foundation and the concealer onto problem areas to hide skin imperfections and give it a light haze.
Blended Face Powder, which comes in the Invisible Blend shade, is a loose powder which fixes the foundation.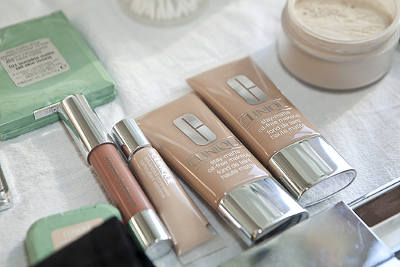 Eye Makeup Tips by Jenna Menard
Superfine Liner for Brows in the Deep Brown shade: to make the eyebrows expressive, use the formula with a slightly darker shade than the natural color of the eyebrows, and apply it with thin strokes between the hairs.
Colour Surge Eye Shadow Stay-Matte, French Vanilla shade: apply the foundation of the skin color on the eyelid – from lashes to brows – to soften the natural tone of the eyelid.
Colour Surge Eye Shadow Duo of the Like Mink shade – use a darker shade of this double palette. Apply dark beige shades on the edge of the eyelid to underline its contours. This creates an illusion of deep-set eyes. Use an eyeliner brush to apply this shade with a light layer on the lower eyelid to highlight the eyes. Apply a lighter shade under the brow and below the contour shade of the eyelid to highlight the dark line. Also apply these shadows on the lower eyelid.
New Quickliner for Eyes Intense of the Intense Black shade: apply the eyeliner on the upper eyelid with a solid clear line as close to the lash line as possible. Fill in the gaps between the lashes. The line should gradually thicken from the inner corner of the eye to the outside one.
The universal High Impact Mascara: apply mascara in several layers to make the lashes visible and thick, lifting them above the contour of the eyeliner.
Lip Makeup by Clinique
Chubby Stick Moisturizind Lip Colour Balm, which comes in a new Heaping Hazelnut shade: make the lips natural with the help of a simple skin tone to create a contrast with the expressive eyebrows, the clear eyeliner and face contours.
Cheeks
Colour Surge Eye Shadow Suo in the Like Mink shade: dark beige shades can create the illusion of clear, sharp contours of the face. Apply the same color on the eyelid and under the cheekbones to outline the face. Using the same color for eye and cheek contours makes the face look more natural.