17 gorgeous shades inspired by the Burberry Fall-Winter 2013-2014 collection. Make-up artists and stylists call these things "affordable luxury". We can add this fashion accessory to our image.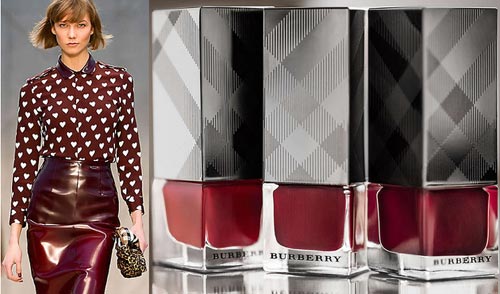 What is in the formula? Firming and moisturizing elements, including vitamin B5 and myrrh extract. The nail polish dries and hardens quickly. According to the company's release, the nail polish dries in less than 2 minutes and fully hardens in 6.5 minutes.
The new nail polishes are persistent, retain luster for a long time. And the best thing is the palette: gorgeous neutral shades, sophisticated seasonal colors and classic red.
No. 100 Nude Beige, No.101 Nude Pink, No. 102 English Rose
No. 103 Ash Rose, No. 104 Stone, No. 105 Mink
No. 106 Dark Trench, No. 200 Steel Grey, No. 201 Graphite
No. 202 Metallic Khaki, No. 203 Storm Grey, No. 204 Khaki, No. 299 Poppy Black
No. 300 Military Red, No. 301 Poppy Red, No 302. Polish Red, No. 303 Oxblood
And in January 2014, there will appear nail polishes for spring 2014.