Halloween is just around the corner, and it is possible that many will decide to throw a party for themselves and the loved ones. Although this holiday is considered one of the most controversial occasions, it is undeniable that you can come up with a huge number of amazing things on Halloween. Today, we will focus on how to quickly and cheaply prepare your house for the holiday.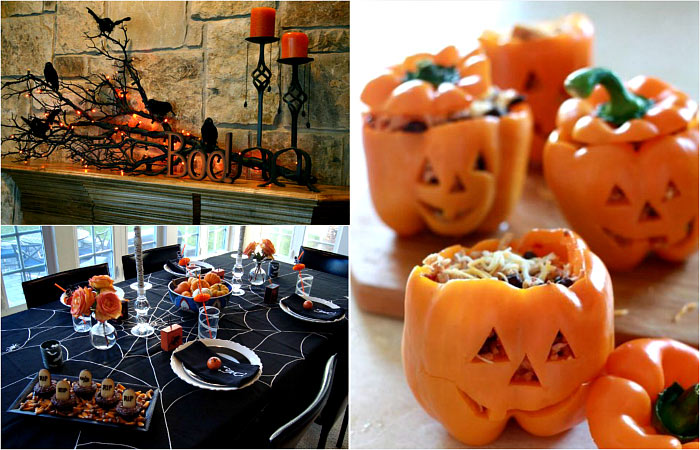 1. Witch hats
Turn your home into a widow's dwelling with the help of black witch hats, which seem to float in the air. Of course, it is easier to use ready-made witch hats to create such decorations, attaching the line to their tops and hanging them below the ceiling.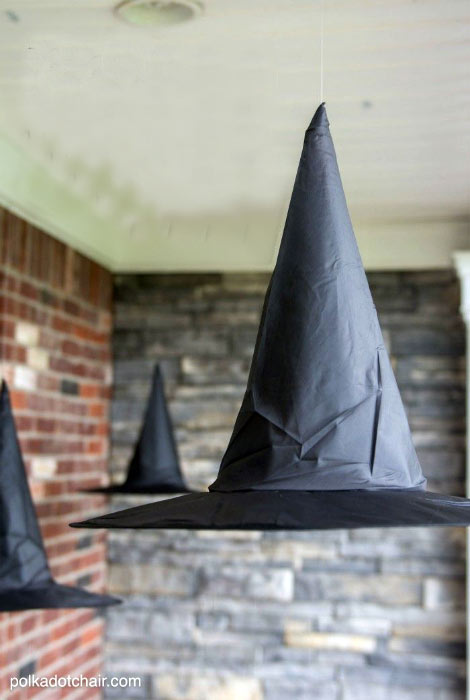 However, if you cannot get ready-made hats, you can make them with your own hands, using black paper and glue.
2. Dried heads
The holiday table can be decorated with the help of scary smileys on skewers that can be made from apples. First, you need to peel the fruits and cut out eyes, lips and a nose.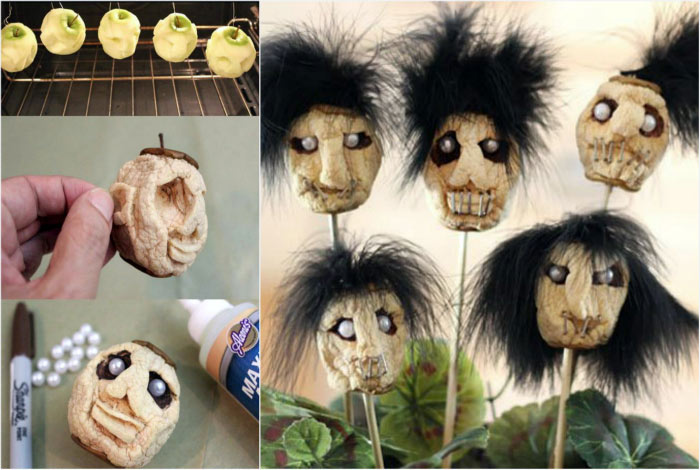 Next, the apples should be put in the oven and dried a little. Finally, you just need to paint some of the facial features, stick beads into the eye sockets and attach the hair.
3. "Bleeding" candles
"Bleeding" candles are an easy-to-make original and rather spectacular decoration in the spirit of Halloween. All you need is massive white candles and a red candle.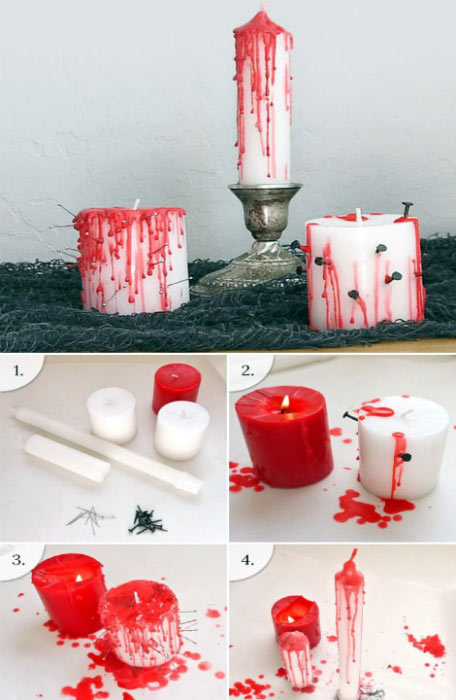 Light the red candle and decorate white candles with the drops of its hot wax. To be more convincing, you can stick pins or nails right in the places colored red.
4. A garland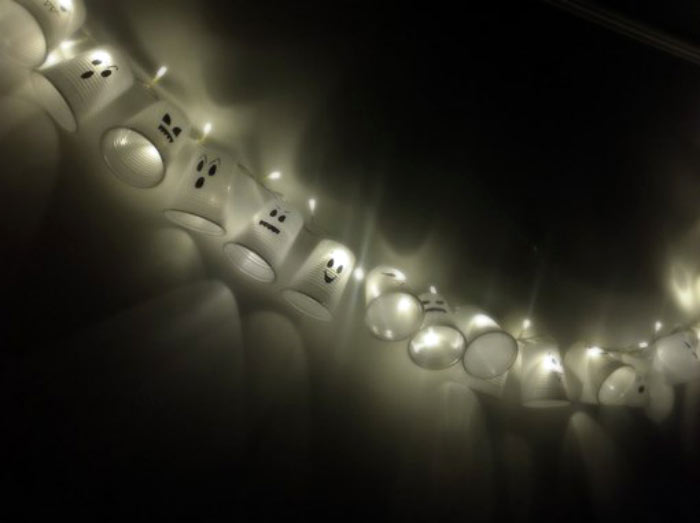 A garland made of the usual plastic or paper cups and decorated with the help of painted black faces can decorate and fill the room with a mysterious light.
5. A wreath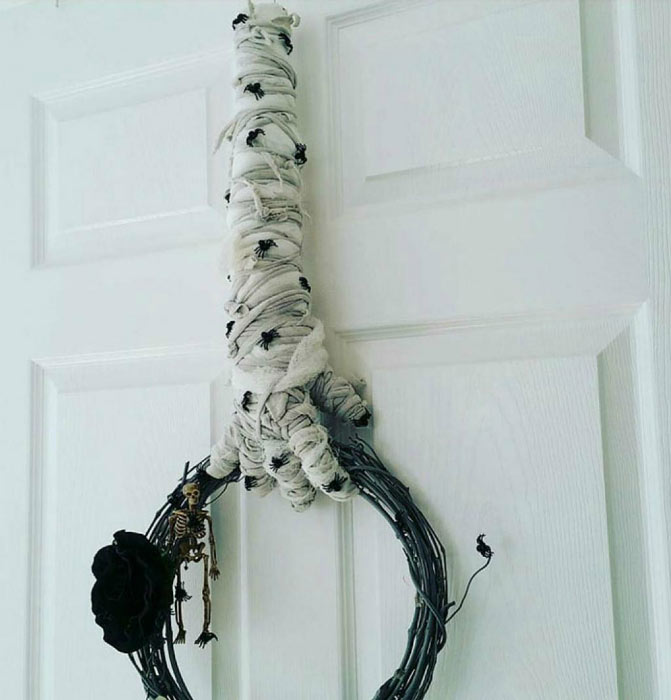 Hang a spooky wreath on the door to help the party guests plunge into the atmosphere of Halloween from the threshold. It is not difficult to make this decoration. You will need a small piece of PVC pipe, some wire and a piece of the light knitted fabric. The wreath itself can be woven from twigs collected in the park.
6. A yarn ball
Original and simple to make yarn balls usually picture the famous character Jack Skellington's face, which became one of the symbols of Halloween. To create such a decoration you need balloons, cotton yarn and white PVA glue. Inflate the balloon to the desired size, cut the thread into one-meter pieces and thoroughly soak them in glue.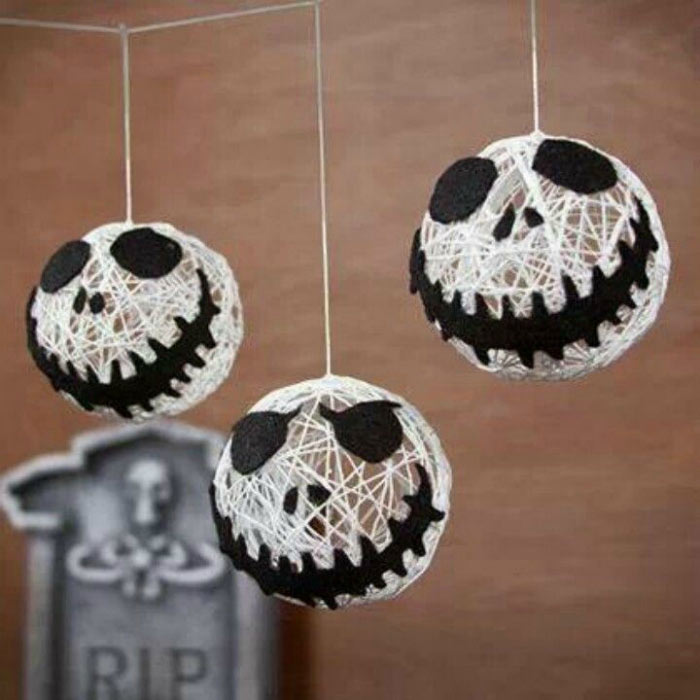 Reel the threads around the ball, leaving a small gap at its tail. When the glue gets dry, puncture he balloon and remove its remnants. Now, you just need to cut out the remaining parts of paper or felt: Jack's eyes, the nose and the smile and glue them to the workpiece.
7. Ghosts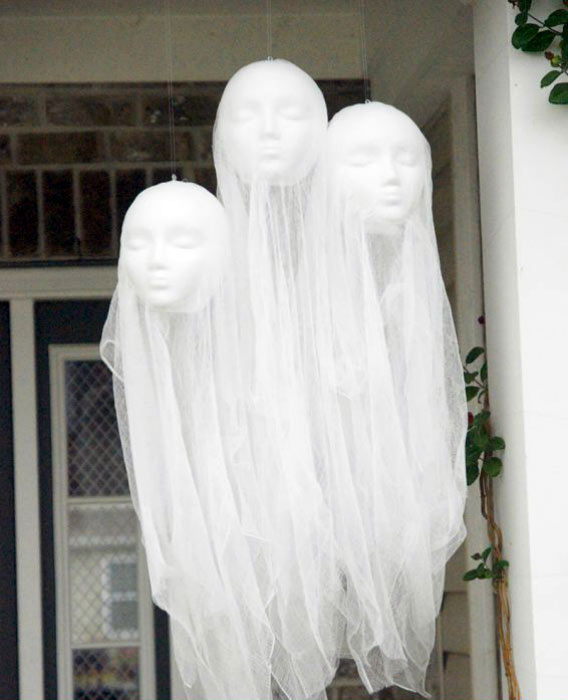 "Ghosts" can be placed on the porch or in the dark corner of the room. You can make them of masks, large doll heads, or white balls inflated with helium and covered with white chiffon pieces.
8. Soap with a surprise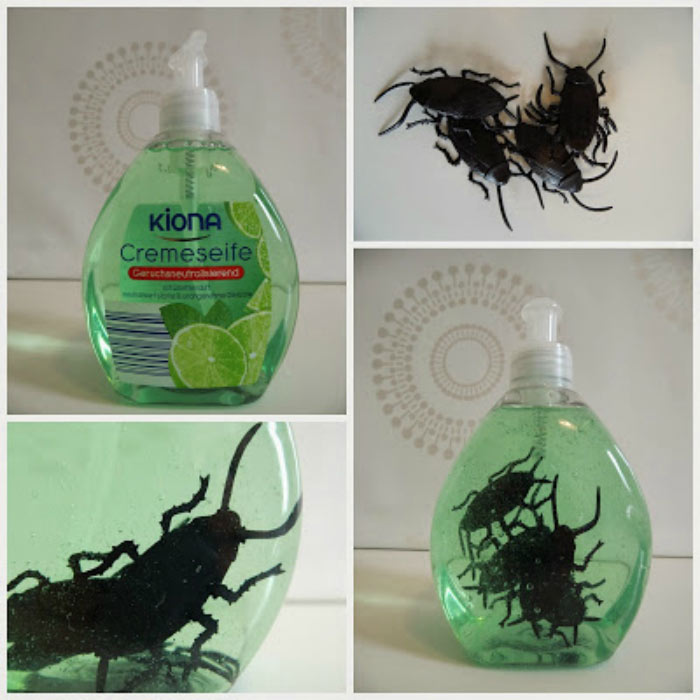 Buy a few figures in the form of bugs or spiders in a prank store or a toy shop and dip them in a dispenser with liquid soap. During the evening, you will hear screams coming from the bathroom every time some newly arrived visitors wash their hands.
9. Paper garlands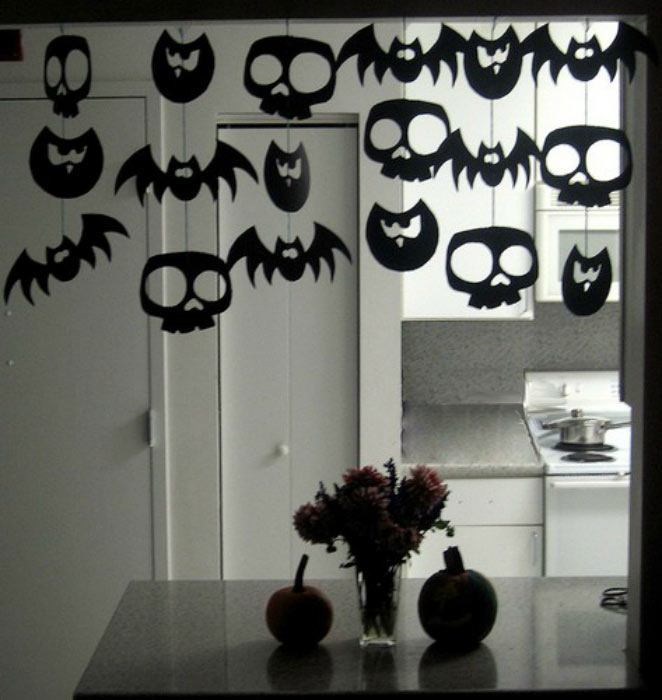 Paper garlands are probably the easiest and cheapest way to decorate the house for the holiday. Cut out figures of bats, pumpkins with scary smiley faces, witches and other evil-doers from black paper or cardboard; attach them to a thread and hang on the ceiling and walls. Remember that if children are present at the holiday, the figures should not be too scary.
10. A dry snag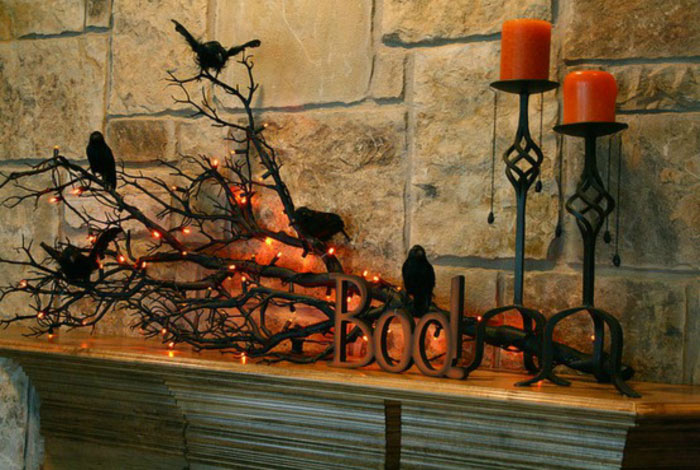 A big dry snag found in the park is perfect for creating a thematic setting. Paint it black with the help of spray paint, wrap a Christmas garland around it, cut a few crows from cardboard, and place them on the snag. By the way, this item can be left in your home after celebration, as a stylish Gothic home decoration.
11. Bats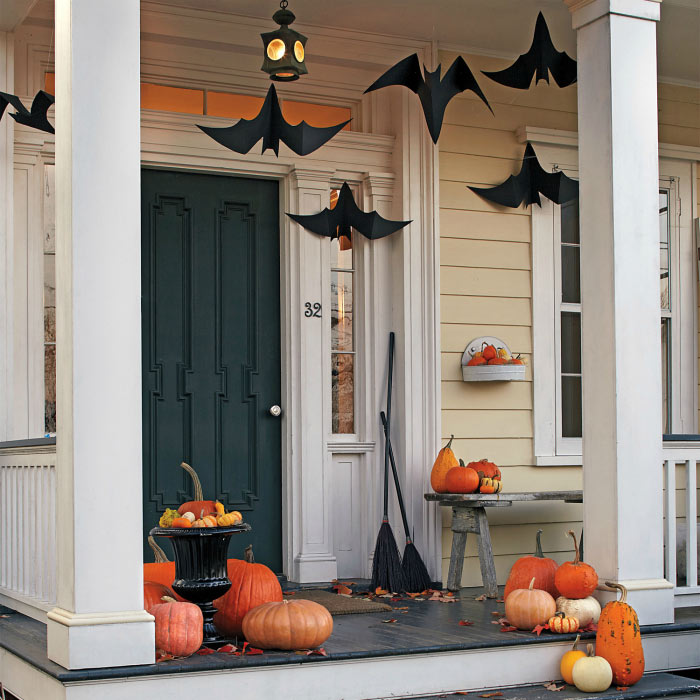 People, who are fond of origami, can decorate the house with original paper figures in the form of bats.
12. Snacks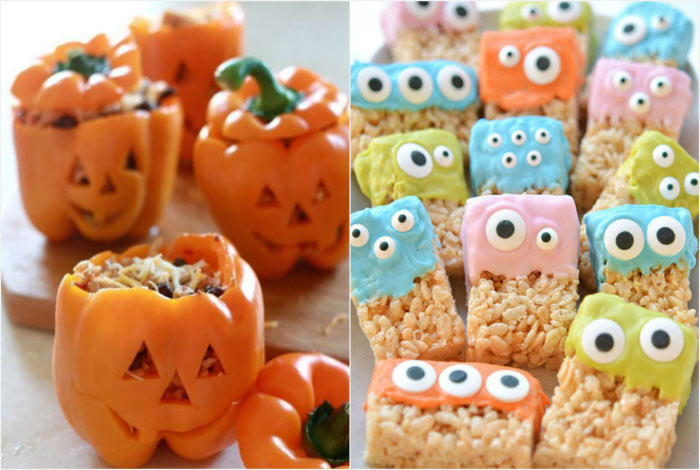 When planning a party, it is worth thinking about snacks. Treat your friends with rice and chicken, stuffed inside sweet peppers and stylized as pumpkins, which actually are the main attributes of Halloween. For dessert, you can offer the guests glazed crispy rice resembling alien creatures.
13. A pumpkin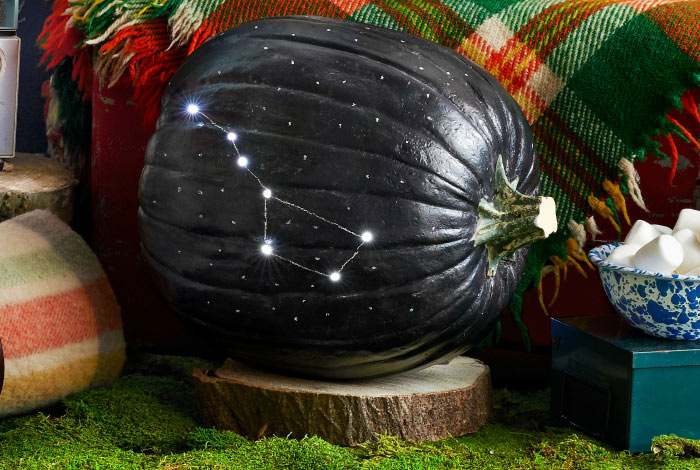 It is difficult to imagine Halloween without pumpkins. In addition to standard smileys, you can decorate pumpkins with other images. For example, cut a constellation, paint the pumpkin black, and light a candle, a garland or a flashlight inside it.
14. A cobweb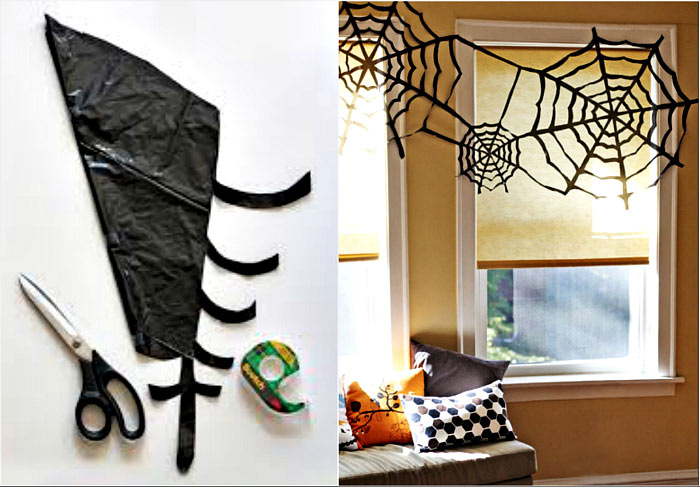 Ordinary garbage bags may turn into frightening theme decorations. Just fold a cellophane garbage bag, as you fold paper in order to make a snowflake, and cut a cobweb. Such webs can decorate every corner of your apartment.
15. A painting with a ghost
Would you like to really surprise, shock or scare the visitors? Add a ghost to any of your paintings. To create such a masterpiece, you can use a big doll head, a plaster or carnival mask, and gauze.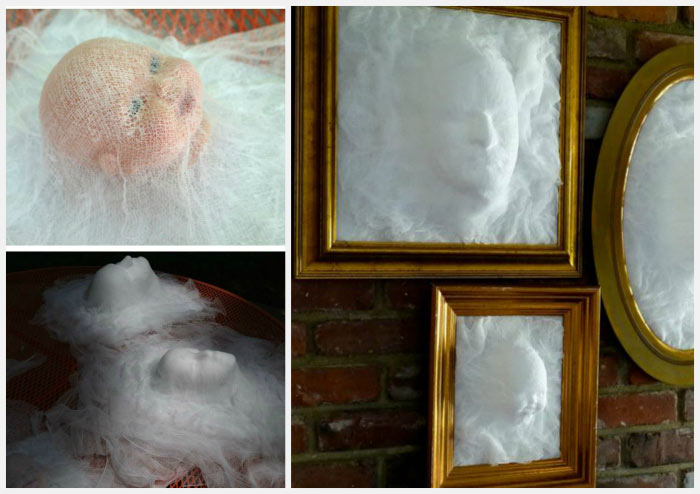 Fix the doll's head or mask on the cardboard and cover it with several layers of gauze so that nothing but a silhouette remains. The resulting decoration can be put in a frame and hung on a wall in the room with poor lighting.
16. "Blood" stains
An effective and easy-to-make rug allows the guests to get tuned for the holiday from the very threshold. You will need a piece of white cloth and a jar of scarlet gouache. Generously smear your feet with paint and walk on the cloth. The blood-stained rug can be spread on the porch or in the hallway.
17. Tableware
The best choice for table setting on Halloween is a black cloth, decorated with cobwebs drawn with a textile marker. Use black-and-white tableware, orange flowers and napkins, as well as the main attribute of the holiday, a pumpkin.