Don't you know what gift you can give to your man? Stockings will be the best present. We are being quite serious now because we are talking not about common socks, but about "tactical stockings", allowing the man to keep a lot of useful trifles and tools in order.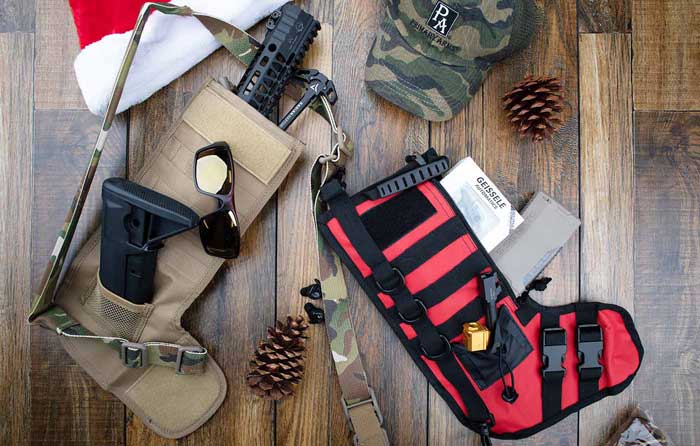 If there is a man in the house, there must be some tools as well. In every house where there are tools, there must be something that will keep them in order. Most often, people use different boxes for this. But if you want something really unusual, you can present your man with special tactical stockings for winter holidays. Indeed, they are the most masculine stockings of those ever created by human beings.
What does this tactical stocking look like? In fact, everything is simple. This wonderful invention was inspired by Christmas stockings, especially popular in the western hemisphere. However, this improvised garment is needed for tools and uniforms rather than for gifts and sweets. A lot of holders, hooks, pockets, rubber bands and stickers on these tactical Christmas stockings will help keep all the male "toys" in perfect order.
In the upper part of the tactical stocking, there is a small carbine, which will allow to hang it where it is most needed. If necessary, the stocking can be attached to a belt. It is convenient to have it while working because all the tools are at hand! In addition, Tactical Christmas Stocking can be used as a small bag. To improve its comfort, a sturdy handle was made at the top.
The most masculine stocking was made of high quality durable materials. The tactical stocking is water-resistant. When purchasing it, you will be able to choose from a variety of colors and design options. Another important advantage of the Tactical Christmas Stocking is that there is only one stocking in the kit, which means that its owner will not face the age-old problem of finding the other stocking!