Watches can make good gifts for special occasions. High school or college graduates often need a good watch to help them get to classes or work on time. They can mark special anniversaries, or be special treats for your parents after you get your first well-paying position.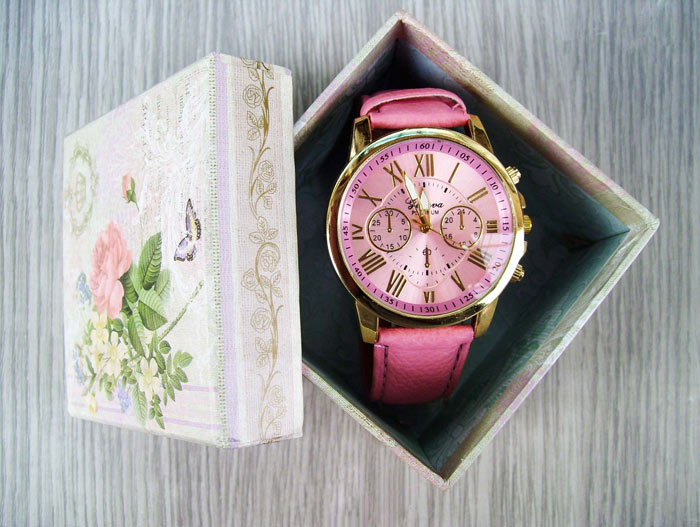 If a special occasion is on your calendar that requires giving a present, here are five tips for gifting a watch.
Set a Budget
A nice watch can cost anywhere from $100 to $20,000 or more depending on what brand you buy. Even if you're celebrating a promotion or your first high-paying job, set a budget for the watch, so you don't need to sell your car to buy it.
Consider their Tastes
As you would with any personal item, you need to consider the tastes of the recipient. If he or she has simple tastes and prefers jeans over an LBD, then buying a luxury watch may be too over the top. Instead, consider the style of clothes they wear at work and off the clock.
Also, consider what type of jewelry they wear, if any. A good way to find a woman's tastes is to try to sneak a peek in her jewelry box. From that reconnaissance, you may be able to find out whether she prefers gold or silver and simple instead of ornate jewelry.
Think About Occupation
If you're buying a watch they can wear to work, consider what they do for a living. You probably don't want to buy a construction worker an Omega Seamaster if there is a chance it will be smashed by the end of the day.
On the other hand, a stylish or funky watch, such as a Swatch, could easily be worn to work by most women. Unless they are in an executive position, a watch can be a fun accessory for a younger woman to wear with her office attire or when going shopping on the weekend.
Buy the Right Size
Whether you're buying a luxury watch or something much less expensive, you'll want it to fit your friend or family member correctly. If the watch is going to be a surprise, it could be difficult to get an accurate wrist measurement.
The average watchband size for a man ranges between 7 3/4" to 9 1/4" and for a woman, it is 6 3/4" to 8" in diameter. A watch can always be worn a bit loose or a jeweler can easily remove a link or punch another hole in a leather band.
Buy a watch with a larger band if you're unsure about the size.
Consider their Hobbies
If the recipient goes SCUBA diving or races a car or motorcycle as a hobby, then you can buy a watch that fits their pastime. A nice diving or racing watch will not only look good, but it can help them time laps around the track or the length of a dive.
When you're gifting someone a watch, don't go by appearance alone. Consider these tips, especially your budget, when you're looking at jewelry stores or online for a nice watch to give as a gift.