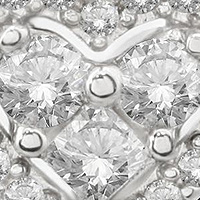 It's hard to believe that we're just starting to see the great combination of diamonds and perfumes. Sure, there are tons of references to diamonds when naming perfumes, but how many have dared to actually put ground diamonds within the perfume itself? Agent Provocateur is one perfume that has stumbled upon a great pairing: diamonds and scent. It highlights this fact with a tiny diamond wrapped around the bottle's clasp.
Why They Make the Perfect Pair
Gliding on perfume is a perfect time to also add some body shimmer. Some of the nicest pressure points for perfume are also perfect places to add body glow. The nape of the neck is a classic spot for perfume, and also perfectly accentuated with a dusting of diamonds. The slender wrists and temples can also be a wonderful place to add a little glow. If wearing a bare-shoulder dress or gown, you can easily see that the shimmer of diamonds and added scent to the bare shoulders make a stunning pair that draws the eyes and delights the nose.
Sensuous Nature of Light
Perfumes are there to enchant the senses in a very subtle, subconscious, form of seduction. The play of light is also a very sensuous visual cue that has been used within romance by lighting candles, starting fires, or the sparkle of light against champagne bubbles. When something glitters or glows, it looks alive and inviting. The fire of diamonds, in particular, has a rainbow-like hue that has always delighted lovers and spoke to them of the fires of the heart. By using perfume to heighten the senses and then adding sparkles of diamond dust to body upon application of perfume, is a way to play with scent and light in a very subtle and flattering fashion. The result should be irresistible.
Source of the image: abazias.com.