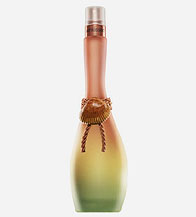 Obviously, Jennifer Lopez is tired of family problems and decided to prove Marc Anthony she's much more than just mother and housewife by launching a new fragrance, "Sunkissed Glow". As it was with the previous one, the flacon of "Sunkissed Glow" resembles Jennifer Lopez's figure. It's said to be flowery and fruity (this is what I personally like) and have some orange blossom (wow!), water lilies and passion flower notes. You'll also smell ember, musk and cashmerewood scents from the bottle. So, it seems to be something amazing.
No idea how all these scents together smell in "Sunkissed Glow", but when you just look at the photo of Jennifer Lopez and the picture of fragrance bottle in the sun glow, you may feel as if it's summer or as if you were on Islamorada in Florida (the island where the photo was taken), too.
The photo for the promotion campaign was made by Peter Lindberg. Mr. Lindberg, thank you for your work – now we all living in cold regions are envious!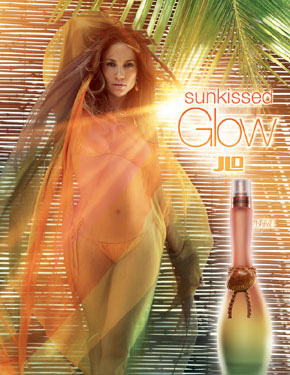 The fragrance will appear in European beauty stores only in February, 2009, unfortunately, there's no information about the U.S. release date by now. As if as a bonus for our patience, the fragrance will also include a small gift – a bracelet. Looking forward to "Sunkissed Glow"!