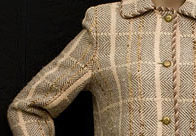 The classical black-and-white texture of cloth remains actual as well as it was last fall and winter. Architectural cut, furry trimming and unusual silhouettes – this season the designers changed their attitude towards tweed, fitting this conservative material into revolutional and challenging solutions.
100 years ago tweed was considered a cloth of the English bourgeoisie. For a long time tweed jackets were worn only by men. But once famous Coco Chanel, who loved to surprise the public, showed to people a model dressed in the suit of this material. Thus, tweed clothes became unchangeable element of ladies' winter wardrobe.
Nowadays no fashion show of Chanel House can be held without skirts, jackets and trousers sewed of this fabric. And winter 2009 showed us that tweed can be used both for creating elegant classical images and for extravagant, modern models.