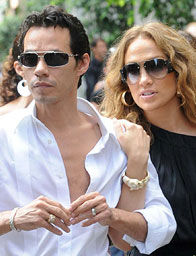 The rumors announcing storms in Jennifer Lopez and Marc Anthony's family started after the singer appeared by herself in the movie The Curious Case of Benjamin Button. The eight-carat wedding ring was missing in the scenes as well. To make matters worse, Jennifer and Mark had been rarely seen together in public lately. In addition, Marc was recently spotted in Las-Vegas, a place where men usually do not take wives for a vacation; plus, he was not wearing his ring as well. The couple's friends mysteriously noted that there is a reason behind them not wearing their rings and that Jennifer never does things without a reason!
Just as those friends announced their opinion other friends added their thoughts as well: "He's very, very controlling of her," a close Anthony's friend tells Us Weekly "The skirts aren't as short. You don't see so much of that booty anymore."
Although Marc Anthony's official representative already contacted Us Weekly claiming that the couple is doing just fine the magazine pursues the search for new witnesses to reveal tiniest details of Jennife Lopez's private life: "She walks in from work, washes her hands and grabs the babies," a longtime family friend tells Us Weekly "With him, it's almost like, 'Ugh, they're crying again?'"
People even recalled the failed movie El Cantante, in which the couple acted together. The movie earned only about $7.5 million, while in contrast Maid in Manhattan gathered almost $100 million. Surely, Mark is the one to be blamed for Jennifer's failures in the movie industry: "Jennifer looked around and said, 'This is my life now? I'm a Long Island housewife?'" a friend says. "She hates that everything she worked for went down the tubes."
Some people say that Mark himself is not happy with his family life. He was seen in the company of several women at the Bungalow 8 club (he even put his hand on the thigh of one of them). There, as rumors say, he complained to them about his wife making him feel miserable.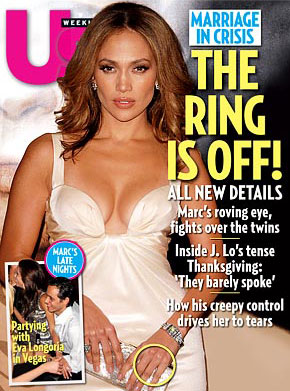 Surely, those rumors could be treated as mere unsupported rumors if they were featured in publications known as "yellow press", such as the Star or National Enquirer. Yet, Us Weekly is a rather credible magazine. We can only hope that Mark and Jennifer come up and delivered those rumors to the editorial department themselves in effort to add some color to their dull daily life. After all, Jennifer never does things without a reason.
By the way, a couple of days ago Lopez and Anthony dined together at Luau restaurant and left it like a proper married couple – holding hands. The wedding ring with the huge diamond was present.
Photo of Jennifer Lopez and Marc Anthony: justjared.com.