Sometimes even before he looks at you, your fragrance tells him your tale.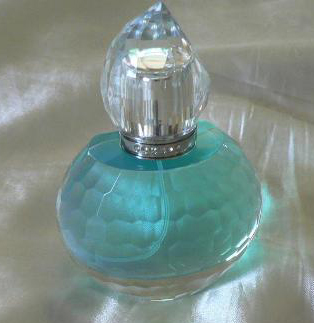 There are simple tales, one-feeling tales, open-hearted tales – and there are deep tales that speak of a heart not given away lightly, but one that can give all of a woman in you to him who will read your tale right.
Here, giving away your fine-spun tale unobtrusively and seductively, is a new fragrance, the first one from a signature line by Anthony Embry in collaboration with Nathalie Giroux-Roussel, Director of 'Your Brand Name Fragrances'.
Called Coeur De Glace, or "the heart of glass" in French, is an evening fragrance for women, long-lasting, expressively sweet, but with a citrus touch that creates the complicacy of the image and the special sophistication.
Coeur De Glace's live charm is partly due to its being completely natural – no chemicals at all – offering a concentration of fragrance oil exceeding that of most other perfumes. The head note is made up of Bergamot, Gardenia, Galbanum, Mango, Sage and Woodberry with a flowery heart of Jasmine, Narcissus, Rose, Hibiscus, and Neroli. Oak, Patchouli, Sandal, Labdanum Ciste, Musk create a deep base note.
Coeur De Glace is for romance that will start slowly and tenuously, for your heart not to be tossed away lightly and broken… again…
For the time being Anthony Embry's debut perfume is only being offered to celebrities.
Source of the image: Coeurdeglace