It's summer now and when it gets so hot, many of us, women, go sunbathing, especially if we're on vacation. When lying in the sun, we don't think of skin cancer at all – we just enjoy this wonderful time, get tanned and dream it never ends, while skin cancer is one of the most common diseases in the U.S.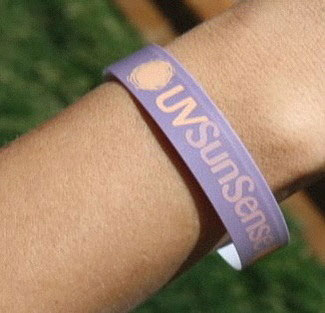 Do you know that annually about a million people get the terrible diagnosis? Moreover, every hour an American dies of melanoma. Even if you use sun creams and lotions, you're not well protected, as you never know how much sun exposure is enough. Fortunately, there's a gadget that can let you know you when it's time to hide yourself indoors. Its name is UV Sun Sense wristband, and you can simply wear it on your wrist all the time when you're on the beach.
Also, don't forget to reapply sun lotion every two hours, wear a hat to protect your hair and sunglasses to protect your eyes, as well as avoid being in the sun between 11 am and 2 pm. And, of course, use the gadget we've just told you about. Following these tips will minimize UV rays exposure.
Source of the image: sawfnews.com