The collection of fragrances from the supermodel has been enlarged by the new one – Naomi Campbell At Night, which is advertised as a flanker of Naomi's successful debut fragrance of 1999. To date, Campbell's collection includes 13 fragrances, each one reflecting a different side of the beauty's individuality.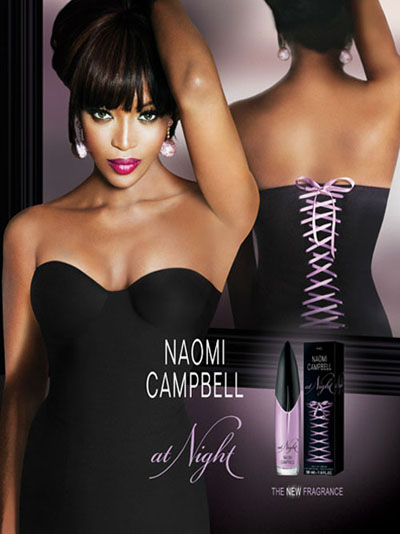 The new smell is all about Naomi's sensuality. Critics call all fragrances by Campbell glamorous and sensual. So the new product is.
The Naomi Campbell At Night fragrance opens with sparkling and bright notes of bergamot, green leaves, and Mirabelle plum. The alliance is complex and sexy. It immediately disposes to flirt. The heart of the fragrance captures and hypnotizes with notes of jasmine, heliotrope, and geranium. And then comes an incredibly sensual ending of creamy sandalwood notes combined with soft Tonka beans which envelop the skin giving it an intriguing sweet vanilla scent.
The bottle and packaging continue the sensual play. They symbolize a sexy supermodel black corset with enticing pink lace. The aroma leaves a trail of seductive night on your skin, invites you to become the coveted coquette for the evening.
The aroma will be released not only as a perfume (50 ml) but as toilet water (15, 30 and 50 ml), body lotion, shower gel, and deodorant spray, as well.