La Legende de Shalimar was filmed by the famous director Bruno Aveillan. It stars the beautiful Guerlain muse, Natalia Vodianova, as Mumtaz Mahal. Hans Zimmer – the creator of the soundtrack for Gladiator by Ridley Scott and the music for The Lion King animated film – wrote the music for the film.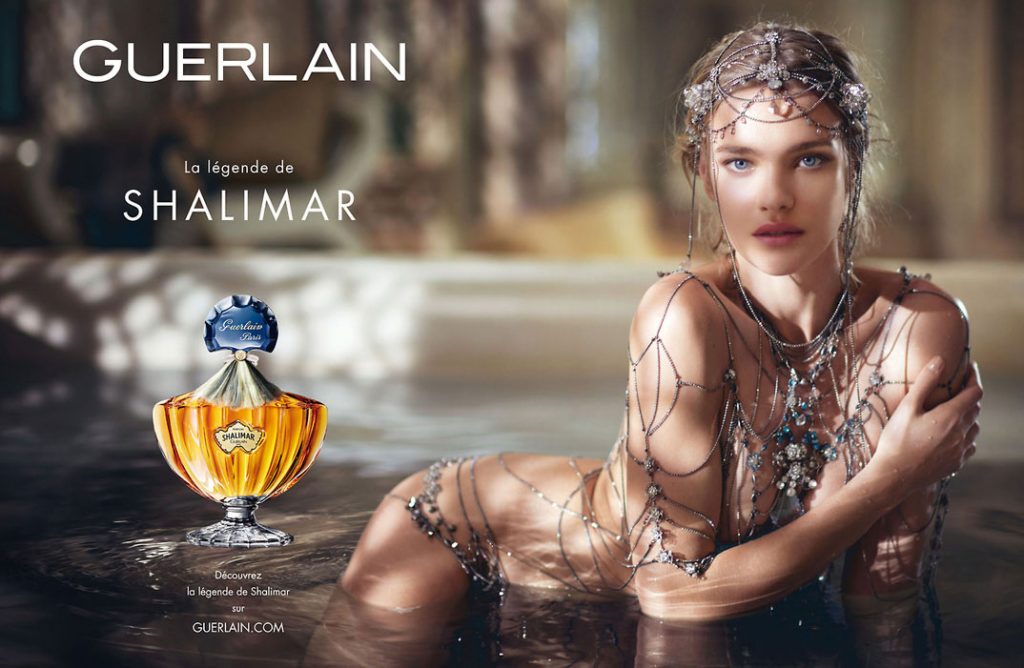 It is an Indian story about the undying love of the Mughal Empire sultan to his wife. In the 17th century poets set the story of Shah Jahan and Mumtaz Mahal to the music of the sitar strings. The true story became a legend.
The almighty Sultan worshipped the woman who became his major and beloved wife. He put her into the palace away from the vanity of the world among the lush gardens of Shalimar. To see her, Shah Jahan had to cross the arid steppes of the Blue Mountains. Closing his eyes, he imagined her as a lovely odalisque. She was with him everywhere, like a vision. Quicker and quicker, he pulled the reins, just to be with her again. The rest you will see in the film.
The mystery of Shalimar is in exquisite notes, reminiscent of the wondrous balms from the tales of A Thousand and One Nights. There is a fine paradoxical balance of freshness and seduction, a garden and a boudoir in the famous Guerlainade – an accord of bergamot, iris, rose, jasmine, tonka bean, and, most importantly, vanilla in the heart of the luxurious Shalimar fragrance…
This fragrance is oriental in origin, too. A friend of Jacques and Raymond Guerlains who visited India told them the story about the Shalimar gardens. In the gardens of the 17th century, the love of the fifth Mughal – Shah Jahan – and his beloved wife Mumtaz Mahal was hidden from the world. This love was so strong that after his wife's death Shah Jahan immortalized her in a white marble mausoleum in Agra.