Glowing quaint shoes, landing on us straight from the year 2015 via Back to the Future 2, is the latest offer from Nike, and a fast-selling one, too! The 2011 Nike Air Mag shoes ("Mag" stands for magnetic levitation) are, without undue ingenuousness, an exact replica of the footwear honored by the movie with a more than 20-year-long popularity. Fans of Back to the Future will instantly recognize the shape of the gray upper parts, the speckled soles and other memorable details.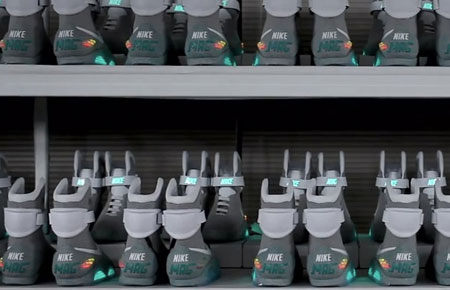 The Air Mag shoes, crested with Nike's glowing logo strap, are the first rechargeable footwear from the company that keep glowing for up to 5 hours until they need a recharge.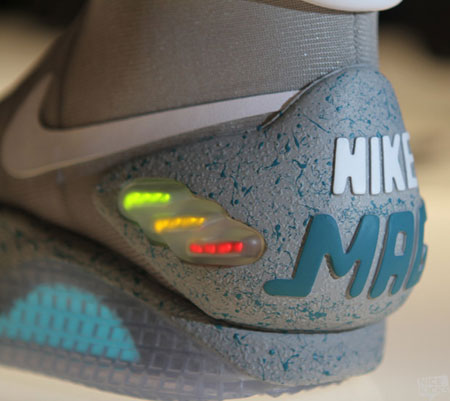 The limited edition of 1,500 pairs is being snatched on eBay by hundreds, going for prices starting from over $3,000 up to $10,000 – all except the first pair that brought in $37,500 at a live auction that was held last week in L.A.! The first owner, British rapper Tinie Tempah, made no bones of dishing out more than the asking price – supposedly considering the shoes were worth it.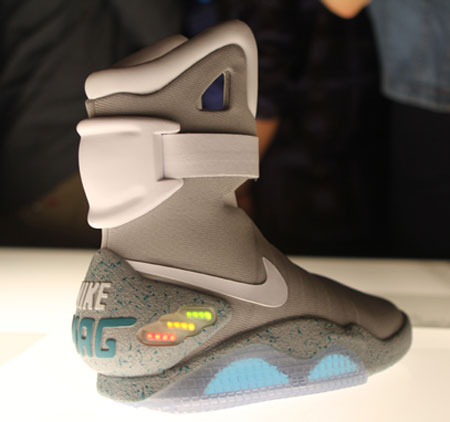 According to the CEO for Nike, the proceeds from the whole batch will be transferred to the Michael J. Fox Foundation for Parkinson's Research. Interviewed by David Letterman on his Late Show, Michael J. Fox, himself the sufferer from the disease and the star of the franchise where he played Marty McFly, was all for the futuristic Nike production that, as he put it, brought "together three populations of people with major joneses." He also expressed his gratitude to those in the Parkinson's community who are concerned with the progress of the research.
Source of the image: Nicekicks.