WWD reports the news anticipated by the fans of the disgraced designer. John Galliano returns to the world of fashion.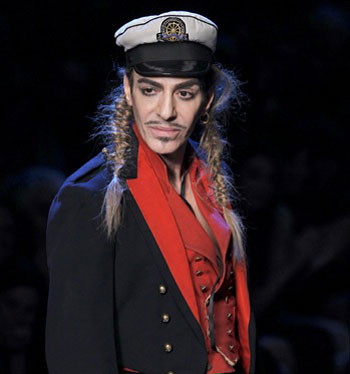 John was invited by his friend, Oscar De La Renta, to work in his studio. Though only for a while. Galliano will have only three weeks to prove to everyone that it is still too early to forget about him.
However, it is still a mystery what result the cooperation of the two famous designers will bring. This is a case of suspense. Fashion experts and journalists have finally sighed with relief that the great Galliano's comeback to the world of high fashion proves to be real.
New York Magazine writes that John Galliano has paid a dear cost for his anti-Semitic remarks, and many people are grateful to Oscar de la Renta for the fact that he gave such a great chance to John.
As you remember, Galliano was fired from the Dior Fashion House almost two years ago. Since then, he has not appeared in fashion circles, with the exception of Kate Moss' wedding (he was the designer of her wedding dress) and a few banquets in Paris and New York with Grace Coddington and Anna Wintour.