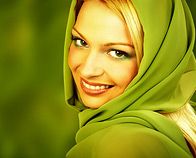 Many women believe that double chin problem is common only among plus size women. Yet, it turns out that not only plus size women suffer from this cosmetic defect but slim people as well. Some suffer from it due to improper nutrition, others – from poorly selected diet plan, which did manage to help the person lose weight but did not help solve stretch marks and double chin issues.
Prevent or Solve the Problem of Double Chin?
Undoubtedly, it is much easier to prevent the problem than to eliminate it. But if you have a double chin already, you may try and solve this problem in the following manner.
Visual Correction of Double Chin
Double chin, basically, visually makes us look heavier and less attractive. Your task is to shift the accent so that the chin doesn't attract attention at all. You can lengthen the neck visually; this way the effect of extra weight and double chin will simply stop bursting upon the eye. Long-neck effect can be reached with the help of small neckline cuts on the clothes you wear (blouses, tank-tops, shirts).
Clothes to Wear with Double Chin
Do not use tops and blouses which have neck-cut right at the base of the neck or shirts with plain neck-line. Clothes like that will simply attract extra attention to your double chin. Your wardrobe should mostly have clothes with V-shaped neckline. The lower the neck-line, the less evident your double chin will be. Clothes with buttons are also nice pick for your wardrobe.
Don't with Double Chin
It is also believed that hair picked up and fixed with the help of hairpins also visually lengthen the neck. People who have double chin by all means should not wear clothes with plain (high) neckline.
Visual Correction of Double Chin with Makeup
Apply your makeup correctly. In order to shift the accents you need to make your cheekbones and eyes expressive; use for this calm, natural tones. If you want to highlight cheekbone area in a special way then you can simply apply mascara but at the same time avoid using eye shadows and eyeliner. Use bronze-tone rouge and remember to apply some on the nose and temples to reach a natural effect.
Wearing Accessories with Double Chin
Wisely use accessories, which can also help correct the shortcomings of your figure when chosen carefully. For instance, you should not wear bulky and long earrings that go all the way down to the chin-base; bulky earrings will simply create extra accent on the double chin. Use, for example, long beads, small light and shiny earrings, which attract attention and distract it from the double chin.
Diet and Exercise against Double Chin
You can fight with double chin. First of all you need to select a diet-plan wisely – a diet which would fit you. At the same time make sure to pay extra attention to the workout, choose exercises which can help you eliminate the double chin. Facial exercises are quite effective at fighting with the double chin.