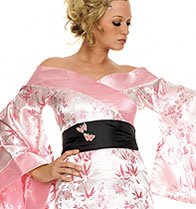 It's quite difficult to find a woman absolutely satisfied with her appearance. We envy celebrities of their beauty and sigh when looking at ourselves in the mirror. While in order to look good you don't have to have a perfect figure. All you need is to hide the body areas you don't like and emphasize your merits. Nobody is perfect, this is why you just need to draw others' attention away from your defects, when choosing clothes. There are five grave enemies that can ruin even the best-looking figure. So, don't let them spoil the way you look.
Wrong Bra
A blouse will never look good on you if you wear a bra that is too tight or too loose. A bra that is too feminine, with lots of laces, or with paddings boosting the volume can be visible when worn under light material. The bra is supposed to support the breasts well and fit their size perfectly. By the way, it is better to wear a pastel colored or even black bra.
Too High Neckline
When the neck-line is too high, the whole upper body looks stumpy. V-necks and stand-up collars look good on most people. Do not hesitate to try something new and look for the neckline that suits you the most.
Unsuitable Belt
A poorly chosen belt width can make your waist and hips look wider then they actually are. To look slimmer choose a wider belt. But note that a wide belt doesn't look good on people with short upper body.
Wrong Shoes
Shoes should match your outfit. Avoid shoes that are too massive or too open. Take caution when choosing sandals with the ankle tie-up as well, as for most women those make their calves bigger.
Short Pants
Too short pants are the best way to make legs look shorter. The best choice is to have trousers slightly covering your shoes.