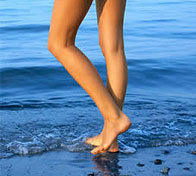 Summer is just around the corner, and it's high time to think about hair removal. The key to a smooth skin staying hair free is epilation. There are three main kinds of epilation: laser epilation, bioepilation (waxing) and photoepilation. Each of them is effective for unwanted hair removal, but at the same time each one has its side effects and contraindications. This article will help you to choose the epilation method, which suits you best.
Advantages and Disadvantages of Laser Hair Removal
Laser is widely used in removing unwanted hair, but only one procedure wouldn't rid you of them forever. In order to make your skin smooth and silky for a long time, you need 5 to 10 procedures made with one month interval. Laser ray destroys only actively growing hair bulbs, but there are lots of other hair bulbs under the skin. This is why you need to wait until all of them grow and only then remove them. In the end, you may need 6 to 10 months to remove all these hairs. Laser epilation is used for removing hairs from all body areas, even face and neck. It's also possible to correct the brow shape using laser. There's a drawback though: laser epilation can't remove grey and light hairs.
What Is Photoepilation
An alternative to laser epilation is photoepilation – a hair removal method using intensive light rays. The largest advantage of photoepilation is the fact that it removes hairs of all types and colors from all skin types. But you will also need to make several procedures – the necessary frequency depends on the body area, as different areas of the body have different hair growth cycles. On average 3 to 6 procedures are enough.
Contraindications for Laser Epilation and Photoepilation
Both laser epilation and photoepilation have the following contraindications:
skin diseases,
varicose veins,
severe ischemic heart disease,
severe hypertension,
acute herpes forms,
various infections.
Patients suffering from one of the listed disorders are recommended to use bioepilation, or waxing.
What Is Bioepilation
Bioepilation is another word for waxing. It is a hair removal method which has only a temporary effect. It helps get rid of even the thinnest and fluffy hairs, which cannot be destroyed by laser. Although they will grow again in a week or two, but if you use this method regularly, it's quite effective, as it makes the hairs thin out and look less noticeable. Unfortunately, this hair removal method is quite painful and can sometimes lead to ingrown hairs.