One fashion model is good, two are better – that's what photographer Craig McDean decided. Working on the fall-winter advertising campaign, Oscar de la Renta photographed two famous beauties – Candice Swanepoel and Katryn Kruger.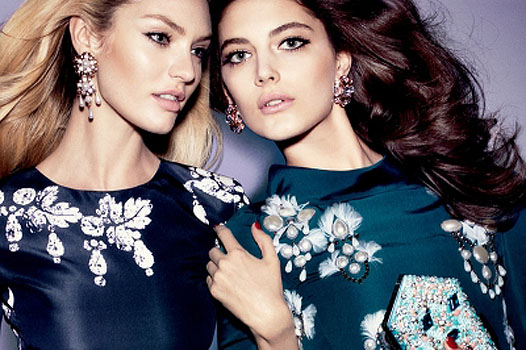 The new representatives of the French brand perfectly complement each other – at least, in hair color – showing outfits from the new collection in front of the camera. By the way, the upcoming season from Oscar de la Renta will be a manifesto of French classics iconized by the great Gabrielle Chanel a century ago.
In the autumn-winter 2012-13 collection the American fashion designer brilliantly "played Chanel". He presented the traditional models of short tweed jackets and pencil skirts, straight boucle coats with big round buttons, prim lace collars, jewelry baroque patterns and evening dresses for special occasions – silk ballet dresses and skirts with an infinite number of tulle layers in icy winter colors and pastel shades.