When you have straight hair, you want curly hair. When you have curly hair, you want straight hair. The contradictions — they never end, do they? Well, take heart. You're not alone. And, fortunately, there are an endless number of ways to get (and keep) the hair you really want.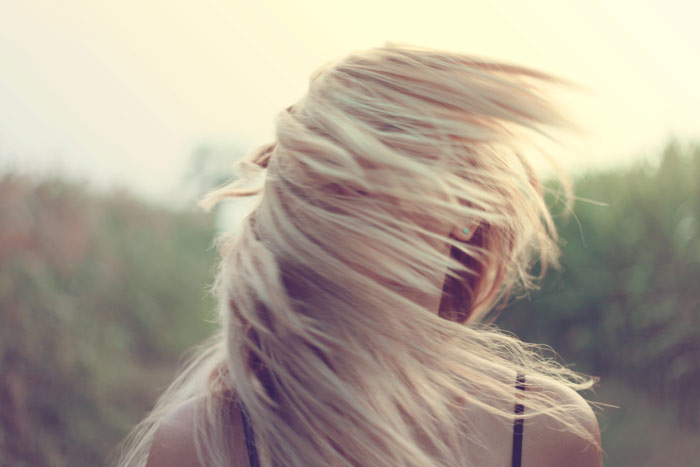 Start In The Shower
You know that straightening works better when you start in the shower, right? You do? Good. Start there. Let's get one thing clear: no shampoo or conditioner is giving you straight hair. But, the hair care items labeled "smoothing" are going to help prep your strands for the process by boosting moisture levels.
According to professional stylist Sarah Potempa, "Take a paddle brush to comb the conditioner through. Then rinse your hair gently. Once you're out of the shower, don't towel dry like crazy! That will enhance the natural curl. Instead, pat downwards gently."
You can also use a the DevaTowel to promote sleek strands.
Use The Blowdryer, Intelligently
According to Tim Rogers, the creative director for Living Proof, "The blowdryer is what's really the most damaging to the hair. So that makes all the difference when you're trying to get a sleek finish."
If you do take the blower to your hair after you jump out of the shower, you should do a rough drying, which means keeping it on low and shaking the dryer back and forth over the head until it's 80% dry.
Apply your product then let it air dry, or blow it out smooth for the best results. According to Rogers, "It gives the hair more direction and shape."
Do not let your hair sizzle. Sizzle is the enemy. According to Harry Josh, stylist to top models like Miranda Kerr and Gisele Bundchen, "If you see steam or you hear the sizzle, stop and evaluate the situation. Hair should be bone dry when you straighten."
If your hair is dry, then it could be the product — too much build up. You have to be selective about what you put in your head. Avoid applying anything to dry hair, because that's what makes straightening different from curling. The iron clamps down on the hair, and there's nowhere for product to go.
You're basically boiling the product into the follicle, which is a bad idea. This is especially so when it contains alcohol.
Use a Thermal Protectant
You don't want the hair to sizzle. But, how are you supposed to get those runway-ready strands without help? "Living Proof's Straight Spray coats the hair with a molecule we patented known as OFPMA," Rogers says. "You can use it on damp hair, which is great, and it protects up to 450 degrees and resists humidity, so it dramatically reduces the frizz factor."
It's also oil and silicone-free.
Keep The Temperature Low
"The 450-degree setting was designed specifically for in-salon, professional keratin treatments," Rogers says. "It wasn't meant for consumers. But now, everyone can use it, which makes the at-home process faster."
This is a double-edged sword. Notice that Rogers says that it was originally made for the salon. You don't go to the salon every day. Which is why it doesn't harm you hair. But, if you're doing this every day, don't expect your hair to hold up.
"Coarse hair does need a higher heat," says T3 stylist Jeanna Pizzollo. "But fine hair and especially damaged or color-treated hair should stay in the safe zone of 300 to 350 degrees."
Section Your Hair
According to Potempa, "You shouldn't be randomly grabbing fistfuls of hair. The iron won't be able to get to pieces that are too thick, and you don't want to unnecessarily reapply heat."
She suggests creating sections so you can track your progress. It's easier, and actually results in a better finished product.
Don't Make Multiple Passes
Passing over the hair with the iron more than once won't kill your hair, but it also doesn't help in most cases. Tension is key. Create tension and then pull the iron downward from the root. Curly styles find it necessary to pull in order to straighten. But, pulling the hair taut while you straighten helps make the process go so much faster, and you get much better results.
Don't Use Damaging Finishes
If you have hair that frizzes or curls up, then finishing products are your friend. But, you need to avoid silicones and oils.
According to Potempa, the best option is, "A light hold hairspray is a good idea. But it's best to wait for the hair to cool down first. Think about spraying a hot pan—it'll sizzle and steam. Your hair will do the same thing!"
Use a spraying boar-nylon brush with product and comb it through for even application.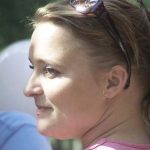 Hi, my name is Juliet. I'm not a hair stylist, but I've had curls for as long as I can remember and always envied girls with straight hair. I've had just about every flat iron you can find today, and after many useless efforts I have now reached the point that people think I have natural straight hair. I love it.