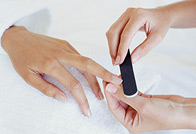 Nail file is an integral part of a manicure set of every woman. Nail files are used for both grinding and buffing and giving shape to nails. That is why they have different graininess. Every woman of fashion should distinguish between different nail files and have in her arsenal a few types of nail files.
What Nail File Should You Choose?
Nail files with coarse granularity are used for handling acrylic nails. To look after your natural nails it is not desirable to use metal files. It is better to use nail files on rubberized or cardboard base. But if you are used to metal nail files, it is better to use fine-grained files of semicircle shape.
Nail File Types
Nail files could be:
diamond,
ruby,
ceramic,
sapphire.
Coarser ones are good for hard nails. For delicate and thin nails emery board is good. It is the best to use two sided ceramic nail file. One side is for the initial grinding down and nail shaping; the finer side is for smoothing out the edges.
How to Use Nail Files
For shortening the nails coarse-grained nail files are used, while for shaping the nails fine grained nail files are the best choice. It is important to remember that only dry nails can be grinded down, and that a nail file should move only in one direction; from the edges to the center or along the straight line. This prevents exfoliation of the nails.
How to Make Your Nails Shine
Nail shininess is achieved with the help of special nail buffers. They are often sold in a set and are numbered according to the stage of buffering.
A nail buffer with coarse granularity is used with caution and only in two cases: when the nail plate has longitudinal or transversal sulcus and after the usage of low-grade nail polish there are changes in pigmentation.
How Often One Can Use Nail Buffers
This procedure should not be abused. A nail can be buffered once every half a year, when the nail plate is completely renewed. Otherwise, the nail plate will become thin.