The answer is, a man to cuddle up to. Miley Cyrus is now busy at the shooting of an upcoming movie So Undercover. With the shooting site in New Orleans, the flick costars Kelly Osbourne, Jeremy Piven and Josh Bowman, former boyfriend of British jazz diva Amy Winehouse (around 2009).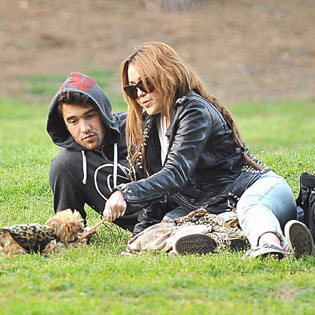 Bowman, 22, plays Cyrus's love interest in the story, but it seems he is also good enough to hang about with outside work – as can be seen from the pictures taken in Griffith Park in L.A. where the 18-year-old 2009 best-selling female artist was lying pressed tight against her smiling companion while playing with a puppy.
But it's still a question whether the sexy actor is getting anywhere with Cyrus, for – as an insider shared with UsMagazine – at present Cyrus "considers herself single" and likes to keep it that way.
It's been like this since August last year, when the singer broke up with her boyfriend 20-year-old Aussie actor Liam Hemsworth with whom she costarred in The Last Song in 2009.
Source of the image: Fanpop.