Valentine's Day in Japan is more closely associated with chocolate than anywhere else (the local tradition suggests women buy chocolate bars for men), which may be the reason why the first chocolate fortwo Mercedes Benz was unveiled in Tokyo.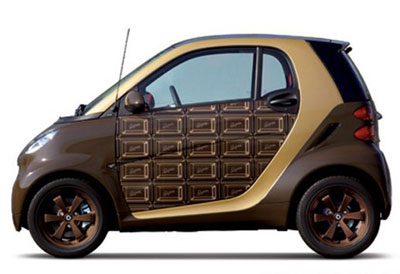 Smart city car, the child of a brainwave and gastric juices of designer Tadaaki Wakamutsu working for luxury jeweler/chocolatier Q-Pot, isn't actually made of chocolate, but looks as close to it as possible.
The unique chocolate-themed color scheme is probably responsible for the price that comes to $28,000 (2.36 million yen in Japan) as compared to a common fortwo's $22,000.
Source of the image: Autoguide.