Bringing in Ashton Kutcher to CBS's Two and a Half Men to replace Charlie Sheen as a billionaire victim of love proved to be an unexpected success, with the ninth season premiere Monday night drawing in 27.8 million viewers – that's twice as many as wanted to watch Sheen-starring premiere of the eighth season. Moreover, it was the highest rating any Two and a Half Men episode ever enjoyed!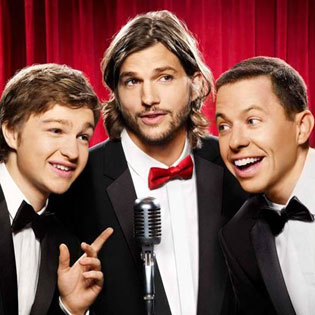 This massive success, as evidenced by early data from Nielson, earned the sitcom a 10.3 rating/ 24 share in the key demo of 18 to 49 aged viewers, and a 12.2 rating in the demo embracing 25 to 54 agers.
Kutcher-led Men attracted so many people that it affected the ratings for ABC's season premiere of Dancing with the Stars, bringing them down to 18.6 million. Though, ABC's two-hour premiere still managed to grab the night's win in the number of viewers, the success that Dancing partly owes to its first let-in of a transgender contestant, Chaz Bono.
The huge lure Men created served as a great push-up for Two Broke Girls, the new CBS release that collected over 19 million curious TV watchers.
On the other end of the pole are Monday night weaklings – NBC's The Playboy Club whose premiere averaged a paltry amount of 5 million viewers, and The a Cappella two-hour competition premiere The Sing-Off that outstripped Playboys by 0.2 million viewers.
Source of the image: Usapoptoday.