Golf's best Tiger is still undergoing sex addiction rehabilitation treatment in a clinic in Mississippi, and his attempt to adjust himself has been appreciated by his wife Elin – as RadarOnline reports. Last week she went over to Gentle Path, Hattiesburg, to see how Tiger was getting on and even participated in some therapeutic séances. RadarOnline's trusted source revealed that she returned to Orlando late on Sunday on a private plane feeling happy and contented.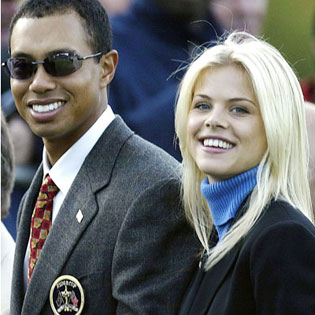 When the nefarious details of Tiger Woods' irregular sexual practices had come out (he is known to have been involved with more than 14 women) Elin was on the verge of walking out on him. It hadn't quite gotten round to filing a divorce petition, but the drastic measure was very much in the forefront. Lately she was seen with her wedding rings off.
Now Tiger is trying hard to ward his marriage off the rocks and Elin believes he's serious about it. So for the time being she shelved the idea of a breakup and is ready to do her bit to keep their marriage alive.
Her Monday photographs in Orlando show a thinner Elin, and Radar's source says it tells how much she has been through.
"The stress has taken a big toll on her," the source commented. "But she's a strong woman."
Source of the image: Topsocialite.com.