We'll have to wait for another two months before the Twilight Saga: Breaking Dawn – Part I arrives at theaters – the great event is scheduled for November 18. Meanwhile we can quench our thirst – or whet our appetite – on a recently released trailer showing the long-expected wedding of Bella and Edward.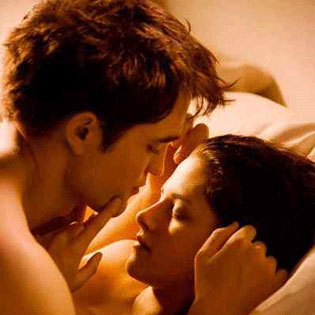 Kristen Stewart as Bella develops a spot of bridal dizziness as she steps into the isle and has to grip her father's arm tightly afraid that she might fall.
Bella's friend Jacob Black, a werewolf, known as Taylor Lautner in this world, watches on sorrowfully as he is thinking that these are Bella's last moments as a mortal girl before she joins the vampire caste – with "pink cheeks, heartbeat" – and the time has come for another goodbye.
The trailer takes the characters farther – to a bed-rocking love scene, to a peek of Bella's labor, and offers a preview of an all-out battle with the Volturi. Get in tune with the oncoming sequel!
Source of the image: Metrowny.