Six children, luxury houses, high-paying jobs… Sounds like happy living, doesn't it? But troubles may come when you least expect them. Take Pitt-Jolie relationship. The couple's close friends are now worrying that Brad and Angelina may be heading for a split, DailyMail reports.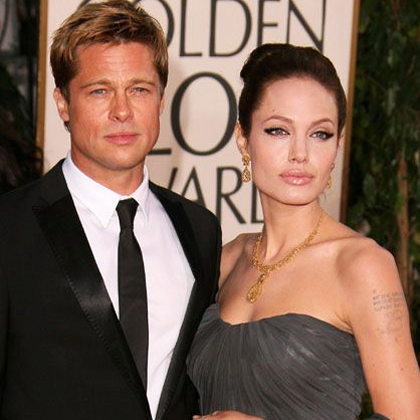 Turns out Pitt and Jolie have had a lot of quarreling lately. It mostly happens because Angelina is wearing herself to the bone on the set of her new movie Salt while Brad is actually paying too little attention to parenting.
Source close to the couple said that once after a grueling day on the set Jolie came home to find her hubby sipping beer and watching DVDs in their bedroom while nannies struggled to care for their six children downstairs.
Almost the same thing happened just a bit earlier when kids were terrifying nannies by wrecking havoc to the house with their father asleep upstairs. Obviously, the scene made Angelina, ending up in a quarrel.
If that's not enough, spouses are sleeping in different bedrooms now. The thing is that a couple of weeks ago Angelina walked into a bedroom and found Brad comforting their twins Knox and Vivienne's nanny. Pitt said there was nothing wrong in it – he just consoled the nanny who was taken ill at the time. Jolie was furious as hell, anyway. The nanny was fired on the spot while Brad was banned from sleeping in one bed with one of the world's most beautiful women.
With such a hectic pace of life, Jolie puts herself at the risk of nervous breakdown – she is working 15-hour days, sticking to stern detox diet and facing relationship troubles. Seems like Jolie needs to take a little getaway and set out for romantic journey with Pitt somewhere to Hawaii. Probably, it would be better to leave kids with nannies.
Source of the image: thedailyfix.com.