For quite a long time those two were not sure whether their involvement with each other will take them to marriage, but now hey presto! they get engaged last month and they get married this month. And they are off on a honeymoon.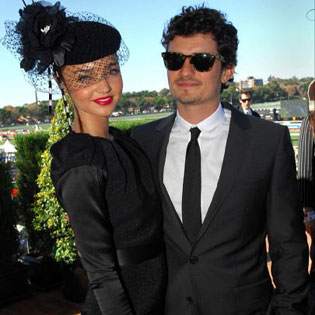 The love story of Australian supermodel Miranda Kerr, 27, and British actor Orlando Bloom, 33, began when the year 2007 was drawing to a close. It started off as merely a good friendship, and Kerr was actually dating another person at the time, so she wouldn't give the most famous elf in the history of the cinema her number and he had to approach her agent for that – the episode Kerr now takes delight in remembering.
In spring 2008 the two were seen together at Sydney's Doncaster Day at the Randwick Racecourse. Then Kerr took the actor home to meet her parents.
2009, after they went to Morocco for Thanksgiving together, questions were asked whether a wedding might be expected – but Bloom shrugged this supposition off when answering the reporters.
And this year Kerr goes and cancels her David Jones engagement to go off to honeymoon. She was to appear at the Australian department store, but it is not to be, and Kerr can only speak out her gratitude to David Jones for letting her off.
"I'm very much a part of the David Jones Family and I am very committed to my role," Kerr tells in her statement. "I am enormously grateful to David Jones to have been given this time to enjoy such a special moment in my life."
Source of the image: Gossip.whyfame