Michelle Obama invited military families to the White House. Grandparents, wives, girlfriends, and children of the American army officers and soldiers were able to communicate with each other and talk about possible problems directly to Barack Obama's wife. Michelle became the center of the event. She easily talked with the guests and quickly got along with their children.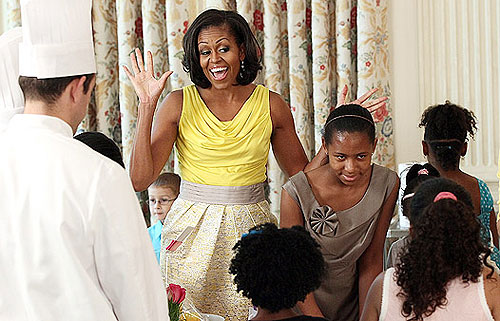 A little earlier that day, Michelle organized gift collecting for Mother's Day. The charity event raised more than two thousand of gift sets.
Michelle Obama expressed gratitude not only to the families who were present, but also to her own mother. The president's wife said she would not be there if not for her mother. She added that her mother was her rock. She taught the daughter to believe in herself. And, most importantly, the mother supported her when she failed. Michelle said she could always complain to her or talk about anything. The woman added that she appreciated it very much.
Last week Michelle was on the move, as well – she was in Colorado at the opening of Warrior Games and at Ohio University. It was in Ohio that her husband Barack Obama's election campaign started. We should say that the smiling and active Michelle is a major trump card in his sleeve.
As usual, the first lady of the United States sets an example of how to dress within the protocol but at the same time cheerfully. Form-fitting silhouettes, feminine cuts, and bright cheerful colors – yellow, blue, gold, red – Michelle is good in any outfit!