In 1952, Marilyn Monroe was interviewed by the no longer existing Pageant magazine. The material caused a strong reader response, indeed! The topic of the journalist's conversation with the famous actress was her diet, based on milk and raw eggs.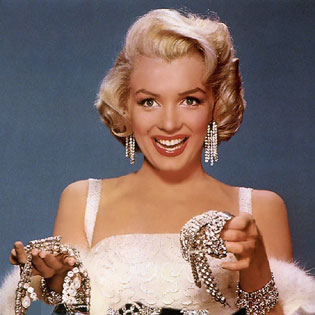 To be more precise, she had two raw eggs mixed with warm milk for breakfast and no lunch. For dinner, there was roasted liver or a steak of lamb with five carrots. As a bonus, she could afford eating an ice cream.
60 years later, one courageous U.S. journalist tested this Hollywood recipe on herself. This torture led to fainting, an "environmental" disaster on her face and a suspicion of salmonella. She described her diet in the "diary of the test".
The journalist started by saying that she had always bought pasteurized eggs, which cost twice as much as the usual ones, but they would be cheaper than treating a case of salmonella. Then the woman asked her grandmother if she had ever eaten raw eggs, but she replied she had not. Moreover, she warned her granddaughter that there would appear hair on her chest. Taking into consideration the warning, the woman still decided to try a star diet.
Day 1
At nine o'clock in the morning, she had milk and eggs and was surprised at finding the thing to be quite pleasant and tasty. Then she missed lunch and barely managed to wait for dinner. Marilyn Monroe's life proved to be a difficult one!
Day 2
The only thing on her mind was that she wanted to eat. Having drunk milk with eggs, she went to work. After work, she fainted in the bus. Not without the help of good people, she got home. She bought meat, cooked dinner and ate it. She ate very little, not even having enough power to do so. Although she could not resist having an ice cream!
Day 3
To draw more inspiration, the journalist watched movies with Marilyn and read about her beauty recipes. There was a piece of advice among them concerning the use of vaseline instead of face cream. It was supposed to moisturize the skin perfectly well! The woman admitted she must have been crazy with hunger, but she decided to try the idea with Vaseline. She wanted to see how long she would manage until her pores got completely clogged. Then she had mutton for dinner and felt exhausted. However, the diet failed to affect her weight.
Day 4
On that day, she met with friends. Everyone was eating pizza, and she found it to be a sophisticated way of torturing her. The journalist heroically ate nothing but an ice cream. She rattled her friends' cage, telling them about the diet. Her mind was totally preoccupied with it, and she had no new topics to discuss with them. Then the woman came home, but she could not sleep because of the pain in her stomach.
Day 5
She spent the whole day lying in bed and saying goodbye to life. Then she decided to read about Marilyn Monroe and her other diets and found a diuretic diet. The journalist decided to try it starting from the next day.
Why not? She had cereals and fruit juice for breakfast. There was fish with vegetables and a lot of parsley for lunch, and she could even sometimes afford eating a fat-free natural yogurt…
Day 6
She had enough strength to go to a fitness club and train until she started to feel really tired.
Days 7, 8, 9
The lady had to conceal countless giant pimples on her face and was preparing an ice bath filled with Chanel № 5. Okay, that was something she fancied. In reality, she could not afford paying for such "diet products" from her budget.
Day 10
The last day of the diet. To mark the special event, she decided to have a bit of pate. It tasted like sour wine, but she spread it on a cracker and ate it, choking.
Summing up the diet, the journalist admitted her weight had not changed. It remained the same, and there was also a huge furuncle on the chin, while her breast seemed a little bit tighter when touched. The conclusion was: no more raw eggs!
Being impressed by the "revelations" of the dieting journalist, we asked the question about the true beauty recipe of Marilyn Monroe. We no longer believe in the story about eggs!