Richard Gere, the actor from such memorable movies as Pretty Woman and the musical Chicago, got married for the third time just this year. We are certainly happy for him, but there is a small fact worthy to be mentioned: his new wife, Alejandra Silva, is 35 years old, while Gere is 68 – more than twice her age. That is something that happens now and again, yet it doesn't fail to look a bit odd if we bring ourselves to imagine how the couple will look together.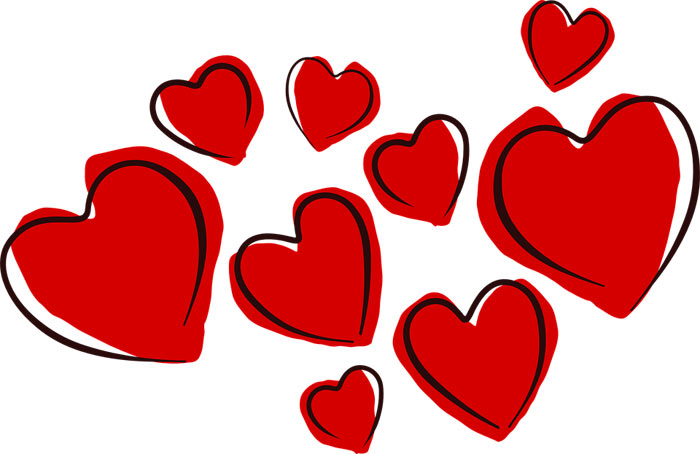 While there's nothing surprising in people going for someone younger as a new partner – in fact, in Hollywood it can be expected to become a tradition soon – people are not yet of one mind about it. With those who try to keep an open mind, it may appear like nothing much to speak of, while others can't shake off the feeling that people's partners should really be closer in age than that. Yes, if they went as far as marrying each other, that's fine and there should be no interference, but have they thought that the passing of time might alter their relationship significantly? Sometimes these considerations never seem to occur to such couples.
Whatever you may feel on the subject, Gere's choice of a love of September of his years is exemplary, but hardly the most astonishing instance of the tendency. Let's see if we can surprise you even more. But first, a bit further about Gere and his lady.
Richard Gere's young kind of bliss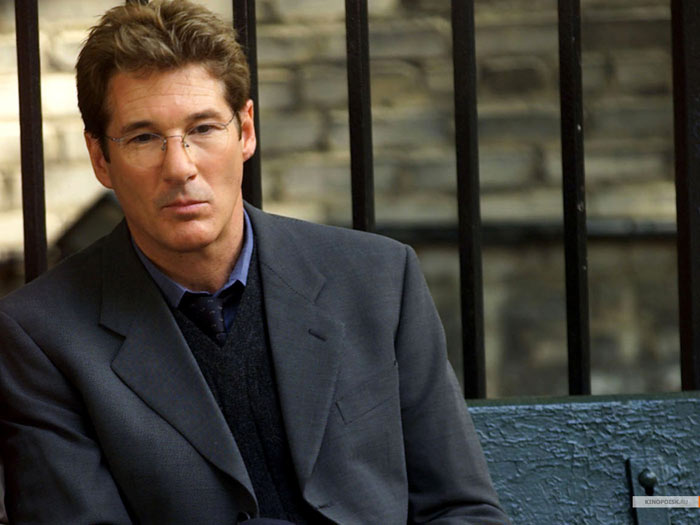 As you already know, Richard Gere went and married Alejandra Silva, a publicist from Spain. While the decision may appear strange, actually they had known each other for a long time before the marriage, when Silva was young and the actor was planning the second half of his life. Their involvement as community activists must have brought them closer together, and such bonds are generally quite strong.
Nevertheless, as Silva stepped out into the world five years after Gere had achieved credit in Pretty Woman, she must have felt time and time again that her man had left his prime years way behind and may be a shadow of his glorious self… Of course, when it comes to that, at the time Julia Roberts playing the alluring Vivian Ward was younger by some 15 years than Silva is now, but the general idea of falling for younger women is still in evidence, though his passion must be running lower than it used to. In the 1990s Pretty Woman was a pretty deep raid into sensuality; will its prime mover be able to renovate his prowess twenty years later?
Michael Douglas and his wife mean to hold on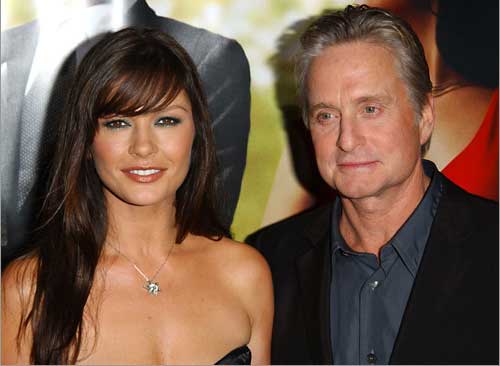 We can safely say that celebrity unions – with age difference or without – are apt to disintegrate when not too much water passed under the bridge, and 18 years is a long, long time by Hollywood standards. Well, Michael Douglas and Catherine Zeta-Jones made it are going to make it for years to come, because, according to them, they are still in love with each other. Strictly speaking, they can't boast of such a wide gaping age difference as Gere and his chosen lady, yet there is a gap allowing them to be included here.
They are not the smallest of Hollywood's stars, either – not by a long chalk. As for Douglas, he has an arm-long list of movies he featured in, a shorter, but presentable list of nominations and awards, and yet shorter list of movies directed. Zeta-Jones shares with her husband an Oscar for Chicago (while he got his for Wall Street), in which she played alongside the aforementioned Richard Gere – Hollywood being a tiny place, after all.
We can devoutly hope that they will be getting along fine, even if their most notable works belong with the 1980s. Maybe they even begin to feel a little old – though you won't think about it looking at Zeta-Jones, who was still very much on the forefront at the time of their marriage. Hopefully it didn't feel weird at the time and no weirder it does now.
Woody Allen never minds age gaps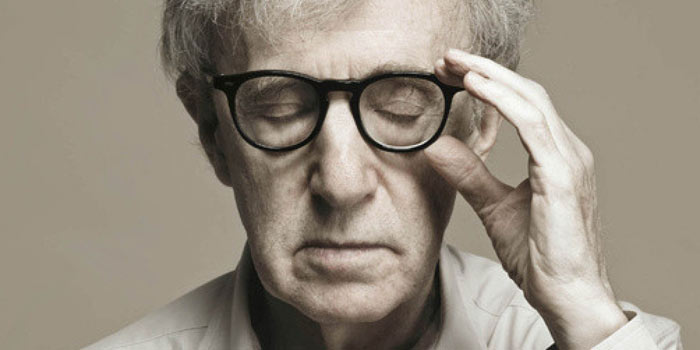 People who know something about Woody Allen certainly expected him to turn up here. Although he is an actor, a writer, a director and so on, for many he is notorious for his marriage. That's what comes from marrying odd: he would surely like his fame to be due to his talents outside matrimony.
His current marriage dates back to the time when Allen was married to another woman – actress Mia Farrow. But his growing infatuation with 22-year-old Soon-Yi Previn, Farrow's adopted daughter, ruined his first union and brought them together in what eventually – five years later – became a full-fledged marriage. At the time Allen was 57 which made him about 35 years older than his lover.
This marriage, true, turned out to be a long-lasting one and would hardly serve as an example of insidiousness of such relationships. Still, realizing that Pevin hasn't reached уet the age Allen was when they started their liaison, one cannot help but wonder about whether they are sometimes bitten by a feeling of the weirdness of it.
Ronnie Wood keeps fathering children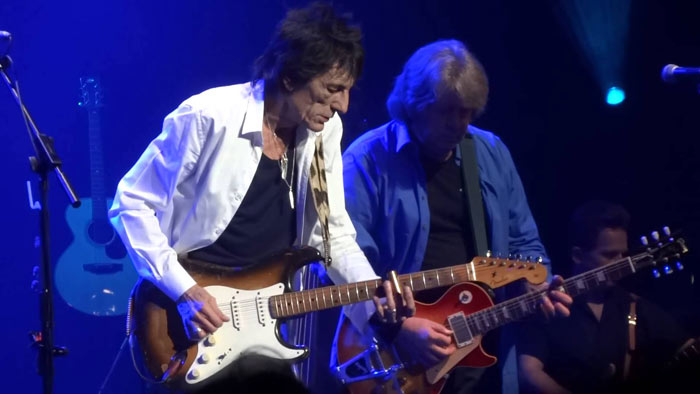 The Rolling Stones, these mammoths of rock, seem to be durable beyond reasonable belief. Not only they: Ozzy Osbourne, Steve Tyler, Neil Young and others have obviously got through the years of parties and similar rock entertainments and are still going strong. Ronnie Wood, the Stones' second guitar, is also a member of the club, both professionally and romantically. At his very ripe age of 70 Wood is married to Sally Humphries who is younger than he by something like 30 years! During the five years of their living together, his wife gave birth to two girls, twins, just prior to Wood's 69th birthday. Now that was a really late birth for both parents, and Wood is going to turn 90 when his girls are 20 – a bit of a sad story for him, or ought to be. Here is what comes from being fans of famous rock musicians, girls: you can get married and have children after 40 years old.
Nelson Mandela got himself a young soulmate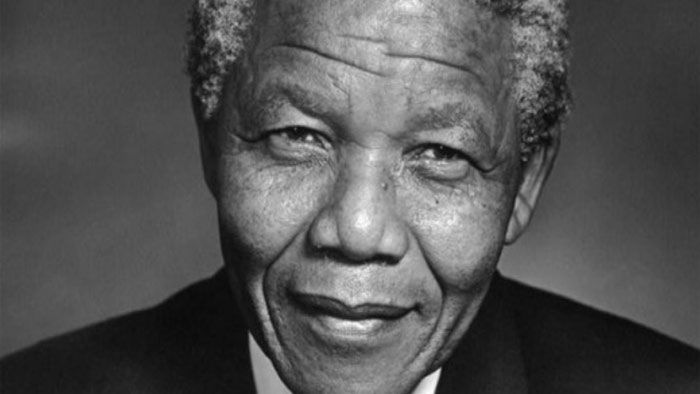 We all remember Nelson Mandela, a tireless fighter against apartheid in South Africa, a human rights activist, political leader, and philanthropist. Many a generation will find inspiring his story of struggles – 27-year-long imprisonment, ensuring freedom and miraculous rise to the highest political office in South Africa. Such is the outer, public part of his life. But there is also something to be told about his personal life.
He married Winnie Mandela in 1958, and this marriage survived for 40 years, embracing the whole of his imprisonment. All the time he was cell-bound, his wife is believed to be maintaining his cause. In 1990, having been finally released from prison, Mandela must have found fault with the way she handled affairs (and her life, too), for he declared her to be a poor wife. From then on, their relationship began to deteriorate slowly until the divorce that took place six years afterwards.
The leader then married for the third time to one Graça Machel, also a political activist, who happened to be 27 years his younger. He was 80 at the time, and they had 15 years to live together until his death at 95. It may not have been a very obvious age difference, still, he must have been gratified to have a young wife.
Larry King finally settling down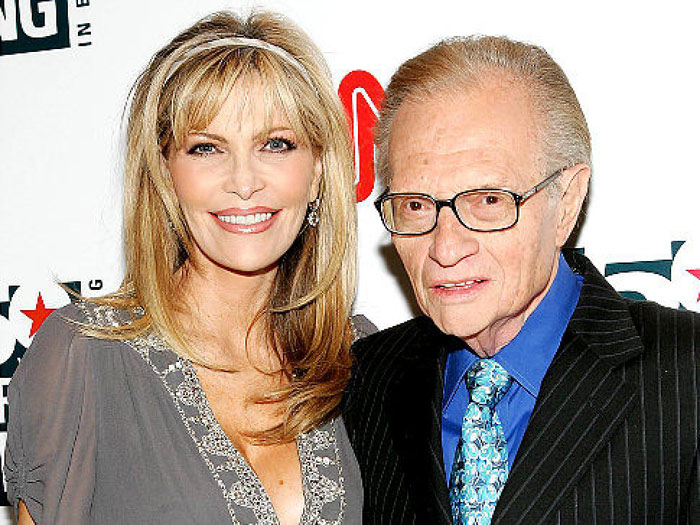 The television host Larry King's tendency is not to stay married for a long time. He first married his high-school sweetheart in the 1950s, and this marriage barely lasted a year due to his parents' highly negative attitude. Then he remarried in 1961, and the couple had a child. Before the 1960s were through, though, King came through two more marriages and had a second child by his fourth wife. Later there were three more subsequent marriages of about the same longevity. After a long-long while, King appeared to have found the true love he had been searching for as he married (for the eighth time for those who grew tired of counting) singer and actress Shawn Southwick. This marriage has been going strong since 1997 – for over two decades already! – and the two welcomed two sons who are in late teens. The eighth time is the luckiest! Although there are speculations that the marriage may dissolve, they have not yet been proven right.
The fact is, Southwick is younger than King by so many years that she is about the same age as his elder children which is sure to bring about uncomfortable moments from time to time. Could it create tensions in their relationship?
Clint Eastwood's age-gap marriage was good for 18 years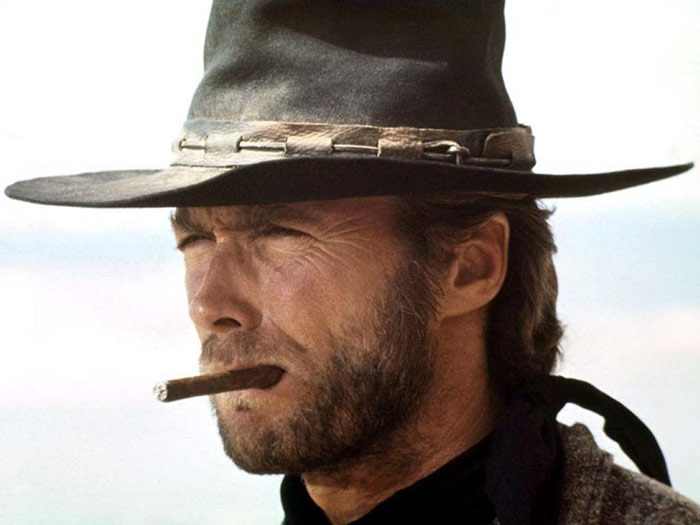 Many generations have their own reasons to know who Clint Eastwood is. Maturer movie-goers remember him as a hero of many a spaghetti Western and as notorious Inspector Harold Callahan in the five Dirty Harry movies. Since he carried his fame into the new century, young people enjoyed his brilliant appearance in Gran Torino (2008) which he directed and produced and the wonderful American Sniper. His career spans so many successes that his fans don't often get round to discussing Eastwood's marriage to a woman who wasn't even half his years. When he married reporter Dina Ruiz in 1996, he turned 66 and she was two years short of 33. Again, some of the actor's children were about the same age as his new wife, which must have made for some embarrassing family occasions. But probably Eastwood, who is still very active in producing and directing jobs, has other things to think about. Though marrying into one's children's generation is not the best choice a man can make, we can certainly be lenient with somebody as talented as he is. Anyway, they no longer live together.
Paul McCartney – a younger Venus, an older Mars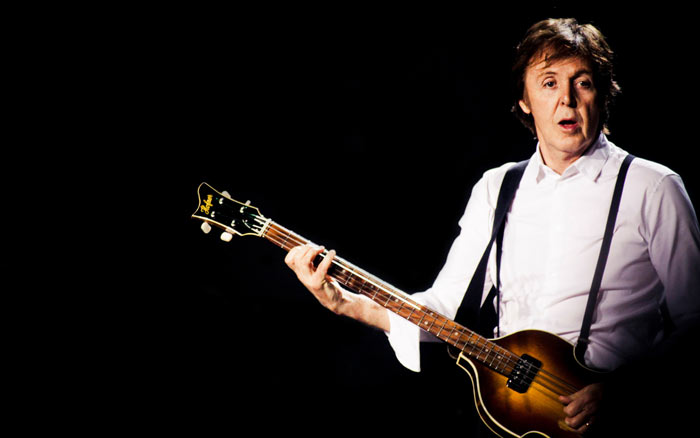 After his first wife's tragic death McCartney definitely went for younger women. His second wife, Heather Mills, was 35 when she married Sir Paul who was then the ripe 60. When the marriage hit the rocks, ex-Fab Four married for the third time in 2011. His new lady, Nancy Shevell, is 18 years younger than her famous spouse, making this union not so embarrassing and weird as many other ones on this list. And, at least, his marriage didn't lead to the break-up of a world-famous band like John Lennon's did.
Sylvester Stallone, Hollywood's best-known boxer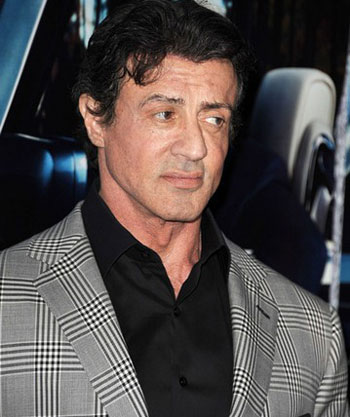 For many, many people Sylvester Stallone's name will be tightly linked to that of Rocky Balboa of the legendary series Rocky. There are places in the US where you can hear the theme song played on suitable occasions.
Yes, he's one great guy, no doubt, yet he can do things that make his fans raise their eyebrows high. Like when he went and married a woman younger than he by 22 years. When they tied the knot in 1997, the actor was almost 52 and his bride, former model Jennifer Flavin, was 29. The marriage is holding for more than 20 years already, and the couple parented three daughters. Still, there will always remain something queer about the union – you only have to look at some pictures of the two together.
Billy Joel passes from one young wife to another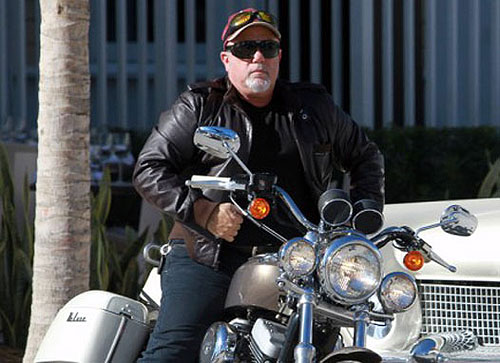 The piano man and songwriter Billy Joel rocked and balladed his way through the 1970s and 80s with great success, but after the 90s he slowed down considerably and lost his sway in the music industry. It is really difficult to say whether young people nowadays dig his music. But he wrote so many beautiful songs about love that some young women fall for his tunes – and for him personally. Like the girl who became his wife in 2004, Katie Lee, 23 years old. The singer was 55 back then and could have easily been his wife's parent. Now it doesn't mean that the relationship is pretty well indecent, but there's no gainsaying it is rather awkward.
Joel isn't famous for keeping his relationships long, and it was six years' span for this marriage of his. We can safely assume that an age gap doesn't exactly add to romance either. After the dissolution of his third marriage, the singer married for the fourth time, and his current wife is half his age. Maybe this one will be the last?
Patrick Stewart grows older with a younger woman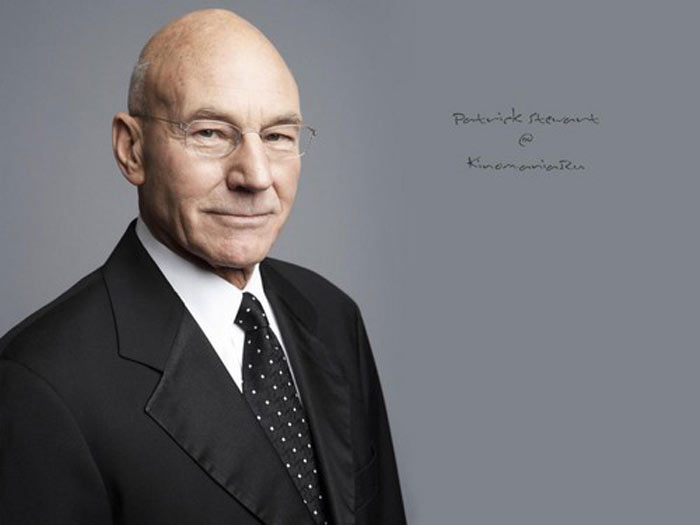 Patrick Stewart is arguably the most nominated actor in the history of the film industry, and, what is more important, for the sci-fi fan base he will always remain an icon and a paragon as one of the Star Trek characters. Apart from science fiction, he is known as Professor Charles Xavier, and there are other notable roles for you to know him by.
He seemed to be a respectable and successful person, but some of the eccentricity of his roles must have rubbed over him, for in 2013 at the clearly declining age of 73 he decided to marry a woman who was 36 (figure out the age gap for yourselves). She is a singer/songwriter Sunny Ozell from Brooklyn. While most of us will agree that it sounds awfully gross, the marriage holds good in spite of Sir Patrick's very venerable age and the baldness of his pate. We can wish them bliss for another decade or two.
Alec Baldwin looks good alongside his younger wife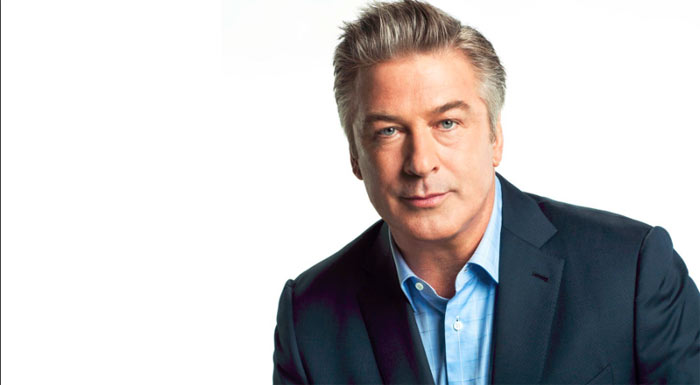 The eldest Baldwin, Alexander, made himself a name in almost every movie genre, so our readers are practically guaranteed to know him from a film, or a television appearance, or as a TV host of Saturday Night Live. Having spent about a decade married to an actress famous in her own right, the second time around he decided to date a Manhattan yoga instructor who has never made any Hollywood-related claim.
While Baldwin certainly isn't getting any younger, he still doesn't look as if he needed a private nurse for a wife. Yet he has been getting around more than his wife has, she being born in 1985 and therefore being younger than her man by 26 years. When Hilaria Thomas was of the tender age of two, Baldwin was working on his debut movie dubbed Forever, Lulu, the fact that takes some getting used to. Despite this, the couple look nice together in pictures and may be happy together for years to come.
Harrison Ford knows a good wife when he sees one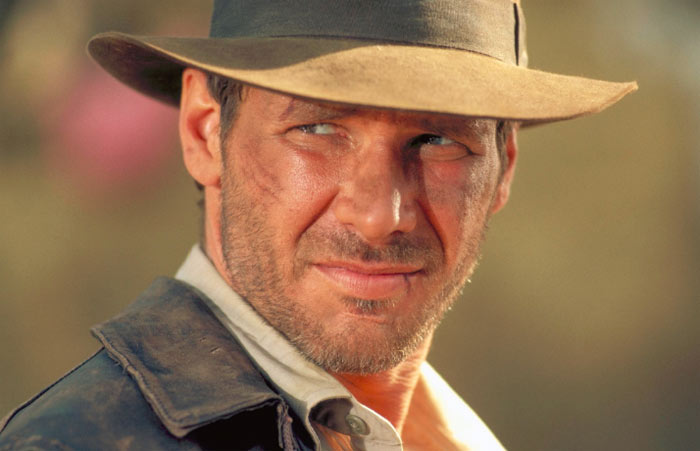 No matter how talented or famous we are, time does catch up with us sooner or later. The great Indiana Jones is now white-haired and long past his prime, although in 2017 in Blade Runner 2049 he was still reminiscent of his old glory. Anyway, the Star Wars star man is nearing his 76th birthday. Hopefully, he's not going to crash any more planes.
Without departing from what can be a Hollywood tradition, he is married to an actress, Calista Flockhart, whom he took a fancy for when he was 60 (quite a while ago in 2002). Back then Flockhart was 38, making the age gap of 22 years. Their relationship seems to be strong and durable, referred to as "unshakable" by People. Let's hope years won't be able to shake their felicitous union despite the age difference.