"Material Girl" is the youth clothing brand which has been produced by Madonna and her daughter Lourdes for a few seasons in a row. The brand has become so successful that the mother and daughter are now thinking seriously about the production of their own makeup and cosmetics line.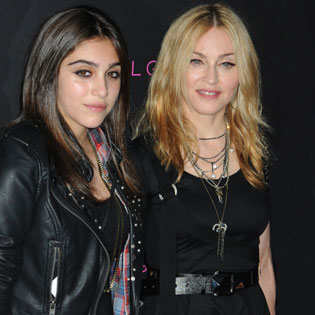 The "Material Girl" brand is anticipating big changes with the coming of Kelly Osbourne as an advertising person. After Taylor Momsen had been fired from the position and Ozzy Osbourne's daughter had been appointed, the sales rate grew considerably. Kelly's employment has made the brand truly popular with teenage girls.
Following this success, the founders of the brand, Madonna and her 14-year-old daughter Lourdes, have made a resolute decision to expand their business. Henceforth, the "Material Girl" brand will produce collections of clothes, underwear, and outer clothing, as well as a makeup and cosmetics line.
Lourdes told the WWD edition that she had really liked working on makeup and cosmetics. It was very exciting for her to create new fragrances for body products and lip gloss. The names for new fragrant body care products are more than creative: Wicked Watermelon, Coquettish Fruit, Midnight Magnolia, or Sinful Sugar. Perhaps, young people will really enjoy these unbelievable names. Lourdes says that she has invented them by herself.
The new "Material Girl" underwear, as well as the makeup and cosmetics line, will appear just before the new school season. Some departments stores in the USA are said to start selling the new products next week.
Source of the image: Beautelicious.